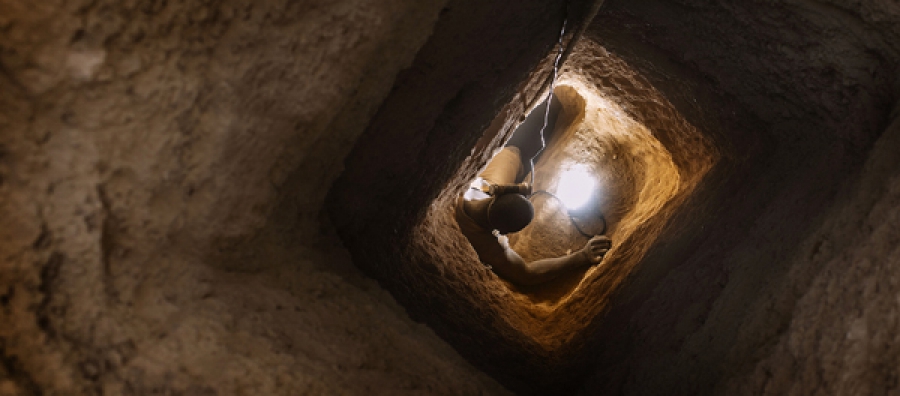 SPRINGS, South Africa – Inside a township morgue here in Springs, 50km from Johannesburg, mortuary attendants direct Tendai Masango* to three bodies that lay motionless in trays.
REPORT BY TAPIWA ZIVIRA
Without any show of emotion on his face, Tendai walks slowly towards the body with the tag, 791/15, and nods his head to confirm that it is his brother who died with 11 others while digging for remnants of gold in a disused mine.
For Tendai, who is also an illegal miner, death stalks them like a shadow every hour, every day.
"Death is around us all the time, from the moment we pick our shovels and picks to go to the mine dumps to the moment we sell our find. We often encourage each other to be always prepared for the eventuality of losing one of us and although it is so painful when it is a close relative, our life has to go on as mouths that feed off our work remain," says Tendai, a father of two.
Death underground
Tendai's brother, with dozens others from Zimbabwe and Mozambique, on the fateful night of August 25, crawled down a mineshaft of an abandoned gold mine for their regular risky job.
Varied narratives from eyewitnesses reveal that other miners started a fire at one of the many mine entrances using planks and as the toxic smoke filtered into the tunnels, about 15 miners suffocated due to lack of oxygen.
Tendai, who fortunately was at home when the incident happened, joined others in retrieving bodies of the dead.
"Bodies were scattered all over the tunnels and we only retrieved bodies of those we recognised," he said.
Some of the bodies remained trapped beneath the earth's surface, where no professional rescue and recovery teams could dare enter.
For Tendai, it is this kind of death and many other tragedies, including robberies and shootouts, he and hundreds of other illegal miners experience every day.
Many players
"Mostly it is us Zimbabweans and Mozambicans, who engage in illegal mining, but there are many other players like some South Africans who rob and at times stab those coming from the mines and they do this on the pretext that they are taking back the gold that rightfully belongs to them as South African nationals," he said.
In the largely South African Zulu language, the illegal miners have earned the derogatory name zama-zama, which means people who try anything to earn a living and, according to Tendai, this fuels the hatred from the South Africans.
Tendai alleged that robbers, mostly South Africans, often laid siege on roads leading from mines.
"They ambush us on our way from the mines because they know we will be carrying gold bearing rocks or soil and they kill those who resist and despite us coming from the mines in large groups, we still face robbers who also come in larger numbers," he said.
No turning back
For Tendai, robberies and death are not enough to hold him and others back from their search for gold. Instead their greatest fear is going back to face the acute economic hardships in Zimbabwe.
"We ran away from the hardships at home and we must not be afraid of doing what we can to achieve what we could not because of the political and economic chaos back in Zimbabwe," he said.
Tendai said an estimated five people died every month in the mineshafts.
"The thing is we go down the mineshafts for about three days and the tunnels can be as long as 5km so sometimes we just lose touch with others, or at times while underground, we meet people we do not know, so it is difficult to account for everyone," he said.
"Most often we walk over bodies of people crushed to death by rocks. What we only do is make sure those that are close to us are back home, and if they not, we just assume that they are dead, or that they have gone to another tunnel or mine."
For a Mozambican national, who identified himself as Agostino, the quest to meet family demands compensates for the risks of going underground for days in search of the precious mineral.
The R3 000 (US$220) – sometimes much less and sometimes more – that he gets from selling a few days' gold find is enough to attract him to the shadow of death as he claims to have "no other way for fending for his family".
"Yes, it is risky, but what else can I do? I need to feed my family and as a man, I have to do what a man has to do, and in this case, for me it is going into the mine not knowing whether I will come back or not," he said.
Police implicated
Further investigations revealed the racket of illegal mining also involved some members of the South African Police Services who, instead of arresting illegal miners, allegedly accept bribes in exchange for turning a blind eye to the deadly vices that take place at the mines.
Some of the residents of Springs also accused the police of covering up the level of tragedies that occur in the mines.
When NewsDay sought a comment from SAPS spokesperson Captain Tsekiso Mofokeng, immediately after the death of the miners, he said police had retrieved only one body from the mineshafts in Springs and had taken it to the local mortuary.
However, when NewsDay visited the mortuary, attendants said police had delivered three bodies from the mines.
In previous interviews with different media houses on the several deaths and incidences that occur in the mines, SA police have not openly declared death tolls, preferring to state that "they have no idea" of the exact figures.
The police, have, however, insisted they operate professionally and do their best to arraign illegal miners.
Gangs and violence
But it is not only the police implicated in this vicious cycle of gold mining.
Several Zimbabweans claimed there was gang warfare going on, as illegal miners operated not as individuals, but as members of cabals, who also comprise gold buyers and some powerful gangs that seek – by hook or crook — to control the mines.
"I suspect those who lit the fire did not do it to light up the tunnels as stated by official police report, but this must have been done to sniff others out of the tunnels," said another illegal miner, who identified himself as Simba.
"Our fear of the police is less than that of rival gangs from other townships who can do anything to gain control of the mineshafts."
Further inquiries revealed there were several gangs made up mostly of Zimbabweans, Mozambicans, South Africans, and some West Africans that sought to undermine each group's quest for the best remnants of gold.
Clive said he was involved in a run-in with a rival gang from Lesotho early this year.
"There was a shootout between my group and another group from Benoni and some died, but I was lucky to escape with just a little scar on my left arm," he said.
The confrontations between gangs happen not just on the surface, but also underground. Several illegal miners confirmed exchange of gunfire is common in the mineshafts.
Huge problem
The South African government has acknowledged the extent of the problem after its Mines Minister Susan Shabangu visited some of the illegal mines in Johannesburg last year with the aim to set up a Gauteng provincial Illegal Mining Forum.
An SA Portfolio Committee on Mineral Resources oversight visit to Gauteng, the province where there are many abandoned kines including those in Benoni and Springs reported last year that "illegal mining activities have assumed serious proportions, with about 6 000 people estimated to be involved in illegal underground mining and another 8 000 in illegal surface mining."
The report points fingers at Zimbabwe as the chief culprit, and exonerates South Africans from the racket.
"Factors fuelling illegal mining included national and international organised crime syndicates, which are targeting the mining sector. They are highly organised, dangerous, well financed and complex.
"The majority of the people doing the digging are from outside South Africa, most come from Lesotho, Mozambique and Zimbabwe . . . the miners have explosives, some of which are smuggled in from Zimbabwe," reads part of the report.
As the last ray of the sun casts its last light on the day in Springs, it is the end of yet another day of scratching the earth's surface and dodging death at every minute to earn a living.