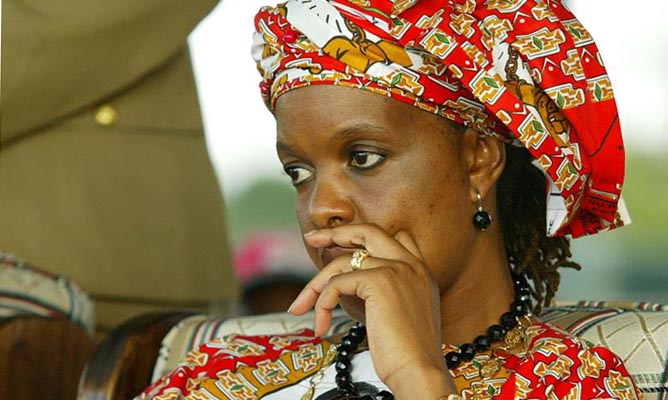 FIRST Lady Grace Mugabe was on Thursday showered with fawning birthday messages by government departments and parastatals as she turned 50.
BY OBEY MANAYITI
The bootlicking by ministers and heads of parastatals has traditionally been reserved for Grace's 91-year-old husband President Robert Mugabe.
Grace, a former secretary who married Mugabe in 1996 after the death of his first wife Sally, will be feted at a lavish party to be held at the First Family's posh "Blue Roof" residence in Borrowdale, Harare, tomorrow.
She is now touted as one of Mugabe's potential successors and Zanu PF officials who dominate parastatals' top management and government departments booked acres of space in the State media to ingratiate themselves with the party's new power broker.
Information Communication Technology minister Supa Mandiwanzira and officials in his ministry led the bootlicking.
"Your desire to bring freedom and economic empowerment for the marginalised black majority is as inspiring," the message read.
"An advocate of transparency and good corporate governance, Dr Amai's philanthropies of unparalled virtue (sic) . . . May every year of your life ahead be a fortress of greater wisdom, astuteness, hope and light that stirs the country Zimbabwe into ubiquitous economic prosperity."
The University of Zimbabwe, which awarded Grace a controversial PhD last year, was not to be outdone, claiming Mugabe's wife had "spiritual intelligence".
"Your Excellency, the university admires your tremendous skills of intellectual intelligence, spiritual intelligence and emotional intelligency, including empathy, compassion, love and grace," the country's top institution of higher learning gushed.
Not to be left out, Hwange Colliery Company, which has not been paying workers for years, placed a sizeable advert congratulating Grace.
The Premier Service Medical Aid Society, despite its documented failure to pay service providers, was part of the bootlicking frenzy, saying it valued her "motherly love, leadership and inspiration always".
The multitude of government departments referred to the First Lady by her new, but controversial title — "Dr Amai".
Organisers of Grace's bash, meanwhile, said preparations were moving smoothly and denied allegations that people and companies were being coerced to contribute.
"Everything is going on smoothly and all good. All proceeds are for charity," one of the organisers, Rodney Dangarembizi, said. "When you are asking for something, you don't have a target. What we are simply doing is to use the First Lady's birthday to make people contribute something and we take that something to the needy."
He refused to say how much they were planning to raise from the event.
"We don't have a target per se and whatever we get, we will appreciate," Dangarembizi said.
"This fundraising thing is not about hosting the event. They (the Mugabes) have the money to host the event. Remember they are businesspeople who are into farming."
He said allegations of extortion and factional politics in the organisation of the bash were best answered by Zanu PF itself.
Zanu PF spokesperson Simon Khaya Moyo said he was attending Parliament and was unable to take questions.
However, main opposition MDC-T spokesperson Obert Gutu said Zanu PF should be seized with finding ways to solve the country's problems and not merry-making.
"It's much ado about nothing. Instead of wining and dining at some high-end hotel in Harare, Grace Mugabe and her hangers-on should be completely ashamed of how the Zanu PF regime has reduced more than 85% of Zimbabweans into beggars and scavengers in the land of their ancestors," he said.
"Struggling public and private companies have been virtually coerced into 'donating' money and other resources to bankroll this utterly meaningless and insensitive bash."
Gutu said Grace's party was another example that Zanu PF did not care about the suffering of ordinary people.
"Anyway, this is vintage Zanu PF. They are thrilled and exhilarated when poor people stampede to shower them with fake platitudes. This lot is a cursed lot," he said.
"They don't care one iota about the penury and destitution that is afflicting the majority of Zimbabweans."
Renewal Democrats of Zimbabwe spokesperson Pishayi Muchauraya said it was not fair to force poor-performing companies to contribute as a way of protecting their businesses.
"This dinner dance is an unnecessary burden on our ailing economy," he said.
"Ordinary Zimbabweans, companies and parastatals are forced to make contributions to seek protection. Companies that are failing to pay their workers and service their debts are coerced to waste huge sums of money in buying tables yet they have gone for months with unpaid workers."
Mugabe's birthday is celebrated in communist-style grandeur.
This year, the country's only ruler since independence partied in the premier tourist resort town of Victoria Falls