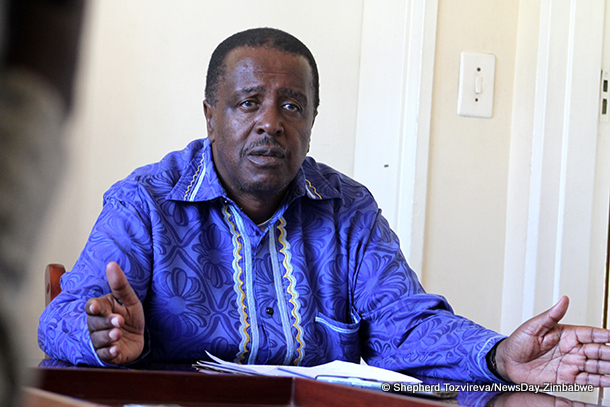 ZANU PF apologist, Goodson Nguni has lashed out at Information minister, Jonathan Moyo over a story published in The Herald claiming he had supplied information relating to President Robert Mugabe's reported $30 million debt to axed Mashonaland East chairperson, Ray Kaukonde.
Nguni told a press briefing in Harare on Wednesday that Moyo was coordinating a private and public media attack in his avowed bid to destroy the ruling party "from within".
Watch Nguni below:
"I want to state categorically clear that I never met Chidza (Richard NewsDay reporter) last week, I also never spoke to him," he said.
"The story is false, it is not true.
"I am a loyal member of Zanu PF led by President Mugabe.
"I have never leaked a story to the NewsDay or to Chidza.
"I never had a teleconference or meeting with Chidza after the last politburo meeting.
"I have never had access to politburo deliberations, except what the party's information department churns out." Nguni, who fronts the Federation of Non-Governmental Organistions, said Moyo was the author of the state publication story.
"The story published by The Herald was written by and on instruction from Jonathan Moyo hoping to snare another politburo member," he said, adding Moyo's anger had arisen from his (Nguni's) intention to oppose the Zimpapers (publishers of The Herald)'s Constitutional Court application to decriminalise defamation.
Nguni claimed he had confronted The Herald editor, Caeser Zvayi over the paper's court challenge.
"This kind of application would have been expected from the private media," he said.
"The Herald editor, Caesar Zvayi told me to my face that Jonathan Moyo instructed him to sue the Minister of Justice (Emmerson Mnangagwa).
"Zvayi also told me that Moyo is the author of all anti-Zanu PF, anti-Vice Presidents stories in The Herald," he said.
"I hope Zanu PF will understand that Moyo has previously stated his wish to destroy Zanu PF from within and now is coordinating the public and private media to write stories that are anti-war veterans, the party and other ministers."