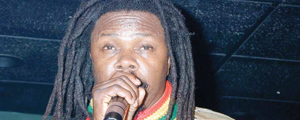 JAMAICAN reggae sensation Luciano jets into Zimbabwe on April 7, three days ahead of the high-octane gig dubbed Pacific Zimbabwe SunSplash slated for April 10 at Glamis Arena, Harare.
BY WINSTONE ANTONIO
Born Jepther McClymont, Luciano makes a return to Zimbabwe after eight years having performed in 2007 courtesy of the Zimbabwe Tourism Authority.
He was initially supposed to have performed in Harare at the Sting 2014 Show on November 1, but cancelled the trip due to the Ebola virus outbreak in West Africa.
This followed an announcement by the Jamaican government that issued a travel warning against travelling to Africa.
Events co-ordinator Jackie Dzambasa of Chipaz Promotions said in an interview that the Jah Messenger singer would arrive earlier to allow time for rehearsals with a local band Hotta Fire.
Hotta Fire has played for several Jamaican artistes, among them Jamaican Tony Rebel who performed at the Shoko Festival in 2013 and a gig at Chitungwiza Aquatic Complex.
"Preparations for the concert are at an advanced stage with all performing artistes raring to go. A welcome party will be held at Red Fox on April 9, a day before the show."
Luciano will share stage with an array of local artistes, among them Pacific brand ambassadors trio of contemporary musician Jah Prayzah, dendera ace Sulumani Chimbetu and dancehall chanter Tocky Vibes, as well as Soul Jah Love, Winky D, Sniper Storm, Transit Crew and Martin Sibanda.
Sound groups that will take turns to entertain fans on the turntables at the show include Judgement Yard, Fyah Lynx, Red Fox Sound and Black Spider with turntable experts like Templeman, Gary B and DJ Cables.
Luciano is a devout Rastafarian whose lyrics promote consciousness and shuns slackness which is apparent evident in most reggae and dancehall music. He began recording in 1992, with his first single Ebony & Ivory on the Aquarius record label, followed by a debut album Moving Up for RAS records in 1993.
After voicing-over for several covers for the producer Sky High, Luciano released Give My Love A Try, which was produced at Castro Brown's New Name Studio and was a hit in Jamaica.
He, however, rose to prominence in the mid-1990s, at the height of the "Rasta Renaissance" in dancehall music, beginning with the album One Way Ticket in 1994.