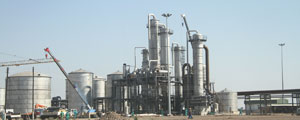 PARLIAMENT has ordered Arda board chairman Basil Nyabadza to clarify the status of the land at the centre of an ownership wrangle between Green Fuel and the Chisumbanje community.
by VENERANDA LANGA
The Parliamentary Portfolio Committee on Youth, Indigenisation and Economic Empowerment made the request in its recent report on the Green Fuel Chisumbanje Ethanol Project.
This was after the ethanol producer reportedly encroached onto surrounding communal land in Chisumbanje, Chinyamukwakwa and Matikwa villages without adequate consultation with the community, thereby disturbing villagers' farming and cultural activities.
"The company should immediately compensate and resettle the 117 households that had offer letters and were displaced from Arda Estates," the committee report read.
"The committee recommends that Arda board chairman Basil Nyabadza must clarify the issue of land ownership between Arda, Green Fuel and the community, and that the audit on land, buildings, livestock, crops, family sizes and business enterprises lost to make way for the project be expedited to facilitate meaningful and realistic compensation before the 2015 farming season."
In 2008, Green Fuel, represented by Macdom Investments, acquired the right to lease land measuring 5 112 hectares from Arda to build its ethanol plant, but the land was said to have since increased to 9 375 hectares, while the Green Fuel target is to reach 45 000 hectares by 2020.
The committee also raised concern over the company's non-compliance with the Indigenisation and Economic Empowerment Act which stipulates 51-49% ownership structure between foreign investors and locals.
"This is not the case in Chisumbanje where the investment has a contentious 90% stake through Macdom Investments and the government owns the remaining 10% through Arda. Arda has an irrevocable option to acquire up to 51% shareholding, but it is not yet clear how this is going to be achieved. "It was also noted that Green Fuel was granted an ethanol blending licence despite not fulfilling the 51-49% joint venture with government according to the spirit of Statutory Instrument 17 of 2013 on mandatory blending," the committee added.
The parliamentarians also recommended Green Fuel to set up Community Share Ownership Trusts (CSOTs) for Chipinge districts.