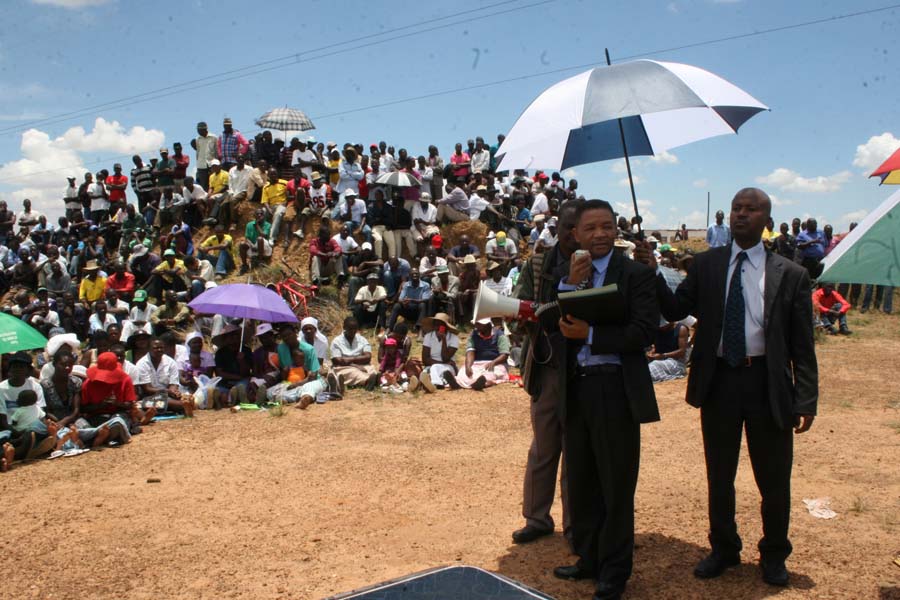 GOVERNMENT yesterday vowed to grab all farms owned by the remaining white former commercial farmers and ruled out joint ventures involving whites.
MOSES MATENGA STAFF REPORTER
Addressing chiefs during the handover of A2 (small-scale commercial farm) offer letters to traditional leaders in Mashonaland East province yesterday, Provincial Affairs minister Joel Biggie Matiza said government's new land policy was set to benefit diplomats, chiefs, war veterans, civil servants and others who missed out at the launch of the land reform programme in 2000 because of rampant corruption.
Speaking at the same occasion, Lands and Rural Resettlement minister Douglas Mombeshora also said government would not allow contract farming arrangements where the indigenous farm owners would get only 10% of total produce while their white partners grabbed the lion's share.
"Contractors will come, but they are not owners of the land," Mombeshora said.
"That you say I have contract farming to get 10%, we won't allow that. Joint ventures with white former commercial farmers, we say no to that. We have never allowed that."
He said white former farmers should be given 90 days to vacate their farms if the land has been allocated to a black person to avoid legal battles.
Mombeshora said joint ventures were done at national level and should come through his ministry.
Matiza added government was giving land to its proper custodians, the chiefs, since they did not have farms.
"Land reform sprang from Mashonaland East province and our chiefs had been reduced to bystanders as land distribution evaded them. In this province, we were protecting the very people who yesteryear were our oppressors," Matiza said.
"Freshly mandated from a cultural perspective, the province will conduct an orderly programme of land allocation. "As the Minister of State for Provincial Affairs in Mashonaland East province, I have a structured programme to embark on orderly and systematic distribution of land in the province. All groups, among them chiefs, youths, war veterans and detainees, women and those in the diplomatic service, civil servants and ordinary people, will be considered."
He said more than 20 000 applicants in Mashonaland East province were on the waiting list, demonstrating the magnitude of the demand for land in the province.
"The white farmers who are carrying out farming activities on gazetted land will not be tolerated as it is illegal in terms of the laws of the country. Farms that exceed the recommended farm sizes will also be downsized so that their sizes comply with the government requirement on maximum farm size."