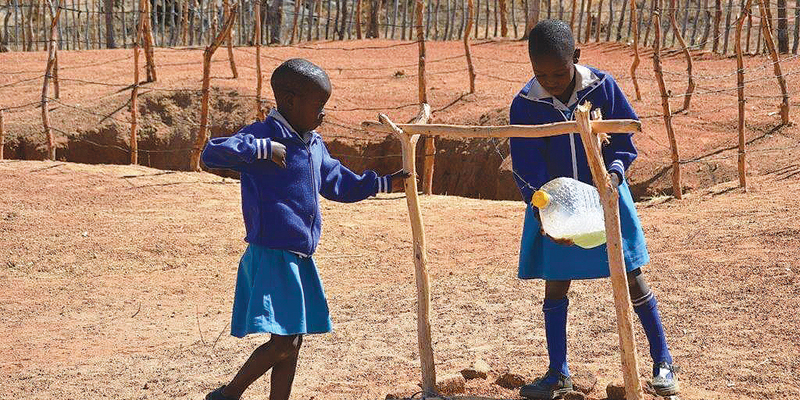 THE commissioning of the$40 million Plumtree Water Works after rehabilitation under the United Nations Children's Fund (Unicef)'s Emergency Rehabilitation and Risk Reduction Programme last week will see the border town's residents accessing potable water for longer periods of time.
Phillip Chidavaenzi
Residents of the town are set to accrue further benefits such as continuous supply even if electricity is switched off.
The Plumtree water treatment plant, which was previously administered by the Zimbabwe National Water Authority (Zinwa), has struggled to provide reliable water services to the community due to reduced pumping and treatment capacity.
The increased unavailability of power as well as absence of spares and preventative maintenance also interfered with its function.
The commissioning came at a time when 60% of schools in Matabeleland South were operating without clean water and proper ablution facilities, consequently spawning a spate of waterborne diseases.
During a joint ministerial tour of rural Wash programmes in Plumtree and Bulilima last week, provincial administrator Midard Khumalo said an analysis they had carried out had showed that water sources in some parts of the province were contaminated.
"The access to quality water is still a problem that we have to contend with as a province. Tests that we have carried out have shown signs of bacterial and chemical content in water in Insiza, Beitbridge and Mzingwane," Khumalo said.
"We are yet to conduct some tests in other parts of the province. Access to clean water by the rural folk still remains a concern." He said there were efforts underway to ensure effective water and sanitation coverage in the province and 40% of schools had been so far covered.
"Over 1 136 cases of diarrhoea were recorded in the province with Matobo District accounting for 249 cases followed by Mangwe with 201 cases. The district with the lowest cases was Gwanda which recorded 97," Khumalo said.
He said Beitbridge had so far received the lowest sanitary coverage under the rural Wash programme.
Senior Minister of State in the President's Office Simon Khaya Moyo, who was part of the tour, said the improvement of water supplies was a top priority area under the Zimbabwe Sustainable Socio-Economic Transformation (ZimAsset) recovery and growth blueprint.
He noted that there had been a disturbing trend over the past years during which coverage in the water and sanitation sector plummeted from 80% to 45%.
"This situation has seen a considerable percentage of our people, particularly the vulnerable groups, failing to access these health-giving facilities, leaving them vulnerable to attacks by waterborne diseases," he said.
"Consequently, the quality of lives of those affected has seriously deteriorated."
According to a Plumtree Town Council report, the water quality was also poor due to the old infrastructure and electricity bills were high because of long pumping hours.
Pumping was done throughout the 24 hours of the day, but had since gone down to 16 hours following the rehabilitation of the water works.
"Supply of treated water is (now) continuous regardless of power failure because we now have a standby generator," reads the report in part.
Following the rehabilitation of the water works, done in a solid partnership involving government and Unicef bankrolled by Australia, United Kingdom, Belgium and Spain, Khaya Moyo expressed hope that the introduction of the rural Wash programme was going to transform communities, with rural households having easy access to water for domestic purposes.
He challenged local authorities to deploy the bulk of their revenue to critical areas such as provision of water and sanitation services to residents. The new Constitution obliges the State and its arms to ensure access to safe, clean and potable water by all citizens.
Unicef and the government are rehabilitating water and sanitation infrastructure, hygiene promotion and capacity building in support of improved cost recovery in 14 small towns and 33 rural districts across five of the 10 provinces in the country.
Unicef country representative Reza Hossaini said under the programme, the fund had supported at least 20 urban councils, critical rural service centres and growth points to improve Wash services.
He said water lay "at the very heart our existence as human beings" because without access to the precious commodity, it would be impossible to combat disease and reduce child and maternal mortality.
"For the people of Plumtree, access to improved water and sanitation will mean fewer diseases and better quality of life, especially for the children," Hossaini said.
He said although the country used to have a robust Wash system, the economic downturn of the last decade had seen neglect and deterioration of its operations and maintenance.
He, however, said the measures implemented under the programme – in which Unicef has also supported at least 20 urban councils, critical rural service centres and growth points to improve Wash services — required greater investment to ensure sustainability.
"In this regard, we are grateful for the generous support of the Australian government which will help 14 small towns, which include Plumtree, to not only rehabilitate their water supply and sanitation systems, but also to procure equipment and train their staff in the use of the municipal billing system," he said.
Local Government minister Ignatius Chombo said the rural Wash programme was targeting 1,72 million people in five provinces with emphasis on the construction of new boreholes, rehabilitation of non-functional boreholes and supply of piped water to communities.
"The programme is also targeting to reach 3 300 communities vis-a-vis access to improved sanitation," he said.
"Our expectation is that by 2016, we would have increased access to safe water and sanitation from 61% to 80%."
He said under the initiative, five rural provinces — Matabeleland North and South, Midlands, Masvingo and Mashonaland West — were identified for water and sanitation support, with 33 vulnerable districts selected to benefit from the various interventions envisaged under the programme.
Environment, Water and Climate minister Saviour Kasukuwere said the government had, in partnership with Unicef and the Australian government, further mobilised $30 million to follow up with a programme for 14 small towns.
"This small-town Wash programme will go further than just rehabilitating critical Wash infrastructure, but will seek to improve operational efficiencies for water distribution, sewage collections and capacity building in order to make our local authorities viable," he said.
"To this end, emphasis has been placed on the construction of new boreholes, rehabilitation of non-functional boreholes and supply of piped water to communities. The programme is also targeting to reach 3 300 communities vis-a-vis access to improved sanitation."
In March last year, Plumtree Town Council was given the nod to take over water reticulation from Zinwa to supply the border town with the commodity after it was confirmed that it had the capacity to operate the system.
During the commissioning of the rehabilitated water infrastructure in Plumtree, Matabeleland South Minister of State for Provincial Affairs Abednigo Ncube said it was heartening that the town now had improved pumping capacity and efficient and dependable water supply system.
"The community has been educated to minimise future pipe blockages by avoiding discarding solid materials into the drains and manholes and also on the importance of water conservation," he said.
Plumtree is a border town located south-west of Bulawayo and is the gateway from Zimbabwe to Botswana. With an estimated population of 30 000, the town, draws raw water from Mhlanga Dam, 14km from the town which has a capacity of 4,2 million cubic metres, and Mangwe Dam, 52km from the town, with a capacity of 8,7 million cubic metres.
Between March 2009 and March 2012, Unicef supplied water treatment chemicals to the town to ensure provision of safe water to residents.
Studies have shown that in Zimbabwe, only 69% of the rural population has access to clean drinking water compared to 97% in urban areas while 40% of those in rural areas defecate in the open compared to 1% in urban settings.
Hossaini said there was also a gender perspective to the issues of sanitation, with women faring poorly.
"Not only are the rural areas faring poorly, rural women fare even worse. A survey conducted last year reveals that in 80% of rural households, drinking water is fetched and transported by women aged 15 and above," he said, adding that the women travelled between one and 10km in search of the life-giving liquid.
The greatest cost, he said, was the threat of diarrhoeal infection since diarrhoea was one of the top 10 diseases affecting young children in the country, accounting for 4 000 young lives every year.
"By reducing diarrhoea, we can also reduce the number of children who suffer from stunting — a terrible condition which affects one–third of all under-five children in Zimbabwe," Hossaini said. He challenged the government to develop and implement policies that enhance public and private sector spending on water and sanitation services.