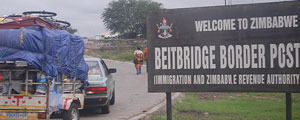 ZIMBABWE could block neighbouring Botswana and Zambia from constructing a bridge on the Zambezi River linking the two countries amid fears the nation stood to lose out on much-needed revenue as commercial traffic would by-pass the country.
By NQOBILE BHEBHE CHIEF REPORTER It is feared that once complete, traffic would by-pass the Beitbridge Border Post, resulting in Zimbabwe losing revenue it currently generates from tollgates and at the border post.
Botswana and Zambia were reportedly building a new link called Kasane Bridge.
The matter is said to have roped in President Robert Mugabe and his Zambian counterpart Michael Sata.
On Wednesday, Chikomba Central MP Felix Tapiwa Mhona (Zanu PF) raised the issue in Parliament demanding Transport minister Obert Mpofu to explain government's position over the matter.
"There is a bridge that is being constructed between Botswana and Zambia known as Kasane Bridge. What is the government policy in place so as to counter this conspiracy whereby you are going to see traffic by-passing our Beitbridge, which is the gateway to southern Africa, consequently impacting negatively on our revenue?" Mhona asked.
In response, Mpofu said: "The question that was raised by the Honourable Member is very important and those that have been in Cabinet across the floor know the position of government regarding that bridge that Botswana and Zambia intend to construct.
"So, the position of government is that there is no direct border between Botswana and Zambia. If a bridge has to be constructed in that area, it will have to go through Zimbabwe, hence the stalemate. I have engaged my colleague in Zambia and this engagement has also been escalated to the principals of the two countries, and the matter is at that level. Our understanding is supported by the United Nations on boundaries; that there is no boundary between Botswana and Zambia. If they want to build a bridge on that piece of land, Zimbabwe has to be involved."
He said Zimbabwe felt there was no need for a bridge just a few kilometres from the Victoria Falls Bridge and the intention was to avoid Zimbabwe to the north.
"But, I do not think that is still the feeling now since there has been some changes in the region," Mpofu said.
In 2012, Zambia and Botswana invited bids for the construction of the bridge and the project was said to be financed partly through an $80 million loan secured from the African Development Bank.
The Botswana government was to meet part of the costs while the Japan International Co-operation Agency was expected to come on board.
According to the project, the bridge is expected to enhance transportation of goods along the regional North-South Corridor that links the two mineral-rich countries, Zambia and the Democratic Republic of Congo, to the port of Durban in South Africa.