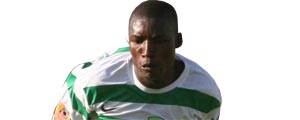 FC PLATINUM and Warriors forward Donald "Dombo" Ngoma has been invited for trials with a team playing in the Swedish Allsvenskan league. BY MUKUDZEI CHINGWERE SPORTS CORRESPONDENT
Ngoma was part of the Warriors Chan squad which defied odds by reaching the semi-finals last month in South Africa.
Dynamos coach Kalisto Pasuwa had hoped to register Ngoma in the champions' league to add options in his strikeforce which had failed to find the back of the net with some semblance of regularity.
Ngoma left the country last week to join the Swedish team in Portugal where they are camped for their pre-season workout, but failed to proceed to Portugal because of inadequate travelling documents.
"I left Zimbabwe last week for South Africa en route to Portugal, but I could not proceed because I did not have a visa to go to Portugal.
"I came back to Harare yesterday (Monday) to process my travelling documents and if all goes according to plan, I will be leaving Zimbabwe tomorrow (today) for Portugal," Ngoma said on Monday.
FC Platinum club secretary Benson Wirimayi confirmed that Ngoma was invited to attend a trial stint with a team in the Allsvenskan league.
"He left the country last week for trials with that Swedish club. He was supposed to join them in Portugal where they are currently undergoing their pre-season workout. When he left the initial arrangement was that he will do a 12-day trial with them," Wirimai said.
Ngoma's quest to land a European contract has the blessings of his club coach Lloyd Mutasa who believes he has the ability to make the grade in Europe.
"If he makes the grade there in Sweden, it will be good for both the player and us as a club. He has the potential to make the grade," Mutasa said.