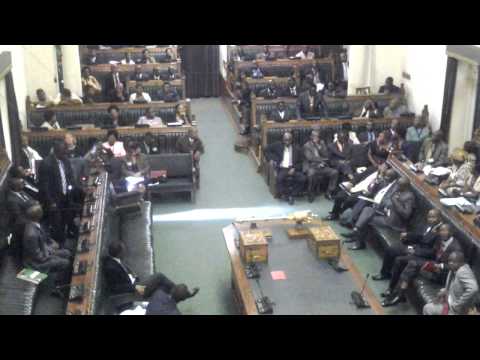 THE Parliamentary Portfolio Committee on Public Accounts yesterday ordered the Ministry of Agriculture, Mechanisation and Irrigation Development to disclose the names of people — most of them suspected to be big fish — who benefited from government's Farm Mechanisation Input Scheme and Operation Maguta.
By Victoria Mtomba Business Reporter
The committee expressed its disappointment when the ministry's finance director Kudakwashe Zata, who had appeared before it failed to answer questions pertaining to an outstanding $3,7 million that was revealed in a 2011 audit report by the Comptroller and Auditor General.
According to Zata, the $3,7 million was borrowed for the distribution of agricultural inputs from various seed houses in 2008 and had not been paid to date. "You should bring evidence attached with the responses that you failed to offer (today) and also be ready to answer further questions when you come back next week," chairperson of the committee Paurina Mpariwa said.
Zata said Operation Maguta received funds from Treasury, but due to the scarcity of resources it had to look for more funding on its own.
"Funding came from the Reserve Bank of Zimbabwe (RBZ) and was not sanctioned by the accounting officer, but by the Reserve Bank. It is only quite recently when the issue was brought to the attention of the ministry of agriculture to retire the obligation," he said.
He confirmed that no seed house had been paid under Maguta.
Member of Parliament for Hurungwe North Reuben Marumahoko said: "There are grey areas on Maguta and so go and investigate."
Kambuzuma MP, Willias Madzimure asked the ministry
officials about the value of the 107 transformers and 440 pumps that were issued to farmers in 2008 by the department of irrigation services and what recovery steps had been made in the past four years after the disbursements.
"How is it possible to say RBZ is owed so much when the ministry does not have the value of the equipment and also the recipients of the equipment do not know the value," Madzimure charged.
Zata said the ministry of agriculture could not ascertain the values as they just received the equipment from the central bank, but did not know the total value.
"Since 2008 when the equipment was disbursed we have not done anything to evaluate the cost. The equipment was issued at the value of the loan," Zata said.
Secretary for agriculture Ringson Chitsiko said: "Anything handled by the RBZ in its quasi-fiscal activities will be difficult for us to find, but whatever was issued by my ministry we will be able to provide. We do not know the value, but we will try (to establish it)."
In 2013 former RBZ boss Gideon Gono refused to disclose the names of the beneficiaries of the farm implements to parliament when he appeared before the agriculture portfolio committee.
He only gave the total value of the equipment as $200 million that was allocated between 2006 and 2007.