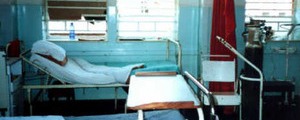 HEALTH and Child Care deputy minister Paul Chimedza yesterday said his ministry had embarked on a programme to extend and refurbish sheds used by patients with opportunistic infections (OI) at most public health institutions to curb the spread of diseases.
WONAI MASVINGISE
Speaking at the handover ceremony for a refurbished OI waiting shed and Personal Protection Equipment (PPE) at Chitungwiza Central Hospital, Chimedza said: "Infection control is as vital as the bricks and mortar needed for construction and renovations of health care facilities.
"Health facility-acquired infections, including airborne diseases such as tuberculosis and blood-borne diseases such as hepatitis and HIV, are a major concern for the ministry. The ministry and its partners recognised the need to prevent and control infection in health settings and are, therefore, making a concerted effort to reduce transmission of infections in the health facility environment."
Chimedza added that the new OI waiting area shed and PPE were part of an ongoing project by Centres for Disease Control (CDC) which to date has carried out minor renovations on seven health facilities including Chitungwiza Central Hospital.
"The main goal of the renovations is to decongest the OI clinics, reduce overcrowding, improve ventilation and patients flow to ensure quality care at the OI clinics," he said.
The Chitungwiza facility was refurbished by government in conjunction with the United States-based CDC, Prevention Zimbabwe and other partners.
Speaking at the same event, US embassy deputy chief of mission Robert Scott said the US President's Emergency Plan for Aids Relief (PEPFAR) was providing $4 million to support the Zimbabwe Infection Prevention and Control Project (ZIPCOP), which would spearhead the programme to control infectious diseases in the country.
"We are pleased to have worked closely with the Ministry of Health and Child Care, and its co-operating partners, the Biomedical Research and Training Institute, Infection Control Association of Zimbabwe and the Management Sciences for Health. This collaboration is central to the effectiveness of all the United States health programmes here in Zimbabwe," Scott said.
"Here at the Chitungwiza OI clinic our project is focused on helping prevent the transmission of infectious diseases, including tuberculosis, among patients and staff. It is part of our five-year co-operative agreement with ZIPCOP (which is in its third year), to strengthen infection control practices in health care facilities."