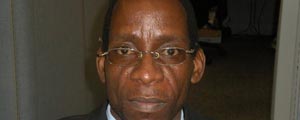 THE recently transformed National Constitutional Assembly (NCA) is mulling to contest the Bikita West constituency seat which fell vacant following the expulsion of former Zanu PF Member of Parliament Munyaradzi Kereke last week.
SENIOR REPORTER
NCA spokesperson Blessing Vava told NewsDay yesterday that his party had plans to contest for the seat.
"As a party, we are more than ready and confident of taking this seat. Already there is work going on in this constituency and many other parts of the country where the NCA is on a massive membership recruitment drive and building its branch and ward structures," Vava said.
He said party leaders would meet later this month to decide whether or not to take part in the by-election as well as choose the party candidate.
"We had made a resolution as the interim national taskforce that we will only participate in any national election after the launch of the party at our inaugural congress slated for March next year.
However, there has been growing interest from our membership, some of whom are keen in contesting in that election. Be that as it may, we have a taskforce meeting on the 27th of this month where the Bikita West issue will be on the agenda," Vava said.
Sources, however, said NCA national taskforce member Maddock Chivasa was the likely candidate the party would field for the seat.
Chivasa said he was willing to contest on an NCA ticket.
"I am a registered voter in that area and I am more than ready to represent NCA if my party decides to field me in that constituency," Chivasa said.
House of Assembly Speaker Jacob Mudenda last week declared the seat vacant after Zanu PF notified Parliament of the expulsion of Kereke. Kereke was expelled for defying the party directive to make way for the preferred candidate Elias Musakwa.
Opposition parties MDC-T and MDC are also eyeing the seat while MDC-99 leader Job Sikhala has also expressed interest in the vacant seat.
Meanwhile, Voluntary Media Council of Zimbabwe (VMCZ) executive director Takura Zhangazha has resigned from the organisation.
Zhangazha is tipped to be appointed as NCA secretary-general. "He informed the board that due to his pursuit of other interests, he is unable to continue serving in the same capacity of executive director of the VMCZ. His resignation is effective on 30 November 2013," VMCZ said in a statement.