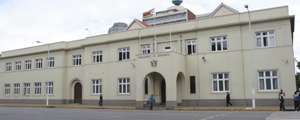 PRESIDENT Robert Mugabe will today officially open the first session of the Eighth Parliament of Zimbabwe, which analysts have described as the beginning of a new era following the end of the inclusive government.
REPORT BY WONAI MASVINGISE
Legislators from the MDC-T party have said they would boycott the ceremony in protest against what they allege was a sham election where Mugabe's party, Zanu PF, stole the vote.
In an interview with NewsDay yesterday, political analyst Ernest Mudzengi said the significance of the new parliament was that it was dominated by Zanu PF.
He said Zanu PF now had leeway to adopt new policies that could take the country forward or not.
"Zanu PF now have a chance of coming up with new policies and whether the economy will improve or not will depend on the policies that they are going to adopt," he said.
During the harmonised elections held on July 31, Mugabe won the presidential election with 61% of the votes and his Zanu PF party managed to get 160 seats out of the 210 National Assembly constituencies translating to more than two-thirds majority.
University of Zimbabwe political science lecturer Charity Manyeruke said Zanu PF's majority would make realignment of laws to the new Constitution easier because there would be consensus.
"I think it's quite significant that tomorrow (today) Parliament will open with a two-thirds majority (for Zanu PF). Parliament will not have problems in synchronising the laws with the new Constitution," Manyeruke said.
"There are various acts that have to go through Parliament so it makes it easier to synchronise the laws because people will have the same mindset. However, this is not to say the opposition is not important. They should continuously be contributing ideas in Parliament so that we have balance and vibrancy in terms of debate."
There are dozens of Acts of Parliament that should be aligned with the new Constitution to avoid conflicting interpretations of the law.
MDC-T spokesperson Douglas Mwonzora yesterday maintained that their MPs would boycott the official opening of Parliament today because they did not recognise Mugabe's victory.
"We will not be attending because we don't recognise President Mugabe as having been legitimately elected. This parliament was the product of a monumental fraud and we won't bless the event by attending," Mwonzora said.