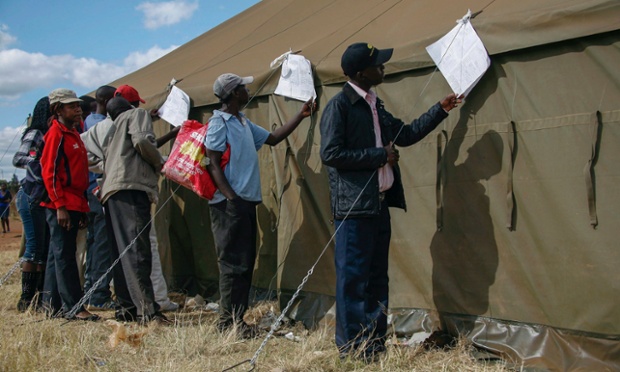 PRESIDENT Robert Mugabe's disputed election victory over his arch-rival MDC-T leader Morgan Tsvangirai continues to receive international condemnation with the United States, Australian British governments and the European Union (EU) describing the poll as "deeply flawed".
REPORT BY WONAI MASVINGISE
"In light of substantial electoral irregularities reported by domestic and regional observers, the United States does not believe that the results announced today (Saturday) represent a credible expression of the will of the Zimbabwean people," US Secretary of State John Kerry said in a statement over the weekend.
"Though the United States was restricted from monitoring these elections, the balance of evidence indicates that today's announcement was the culmination of a deeply flawed process. There were irregularities in the provision and composition of the voters' roll. The parties had unequal access to state media. The security sector did not safeguard the electoral process on an even-handed basis. And the government failed to implement the political reforms mandated by Zimbabwe's new Constitution, the Global Political Agreement, and the region."
According to results announced by the Zimbabwe Electoral Commission, Zanu PF garnered 160 out of 210 parliamentary seats while Mugabe got 61% against Tsvangirai's 34% of the votes.
Tsvangirai has already warned that he would mount a court challenge premised on the alleged irregularities.
British Foreign Secretary William Hague said irregularities cited in several pre-and-post-election reports were enough to put the credibility of the election into question.
"The irregularities in the lead up to the elections and on election day itself, reported by the observer missions and in contravention of Sadc's guidelines, call into serious question the credibility of the election. We note that some political parties have rejected the result on the basis of these irregularities. We will continue to support Zimbabwe and its people in their aspirations for a democratic, peaceful and prosperous future," Hague said.
Australian foreign minister Bob Carr called for a re-run of the polls. The European Union also said it was concerned about reports of lack of transparency in the election.
Meanwhile, Botswana President Ian Khama's government said it doubted the transparency of the July 31 elections.
In a statement, Botswana's Ministry of Foreign Affairs said the government had noted cases that fell short of best practice regarding the conduct of credible elections.
"In essence, the credibility of the elections is determined by the entire process before and after the holding of elections.
"Nevertheless, the government has commended the people of Zimbabwe for the orderly manner in which they conducted themselves during Election Day and is optimistic that the situation in Zimbabwe will continue to be peaceful," read part of the statement.