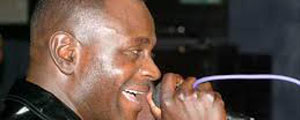 EMOTIONS could have overwhelmed Simon Chimbetu's widow, Angela, who has been hospitalised with high blood pressure at the height of events to commemorate her late husband's life.
GODWIN MUZARI
Chimbetu family dedicated the month of August to celebrate the life of the late music icon who died on August 14, 2005 and Angela has been at the centre of activities lined-up for her late husband's memorial.
However, since last Sunday she has been  restless and has been in and out of hospital due to high blood pressure.
During one of the Simon Chimbetu commemoration shows at Harare Gardens last Sunday, Angela is said to have complained of lethargy and dizziness and had to be rushed to a private surgery in Chitungwiza.
She was diagnosed of high blood pressure and given medication and bed rest from around 8pm to midnight.
The following day she travelled to Chinhoyi for another segment of her late husband's commemorations. She went with the family to Mashonaland West provincial Heroes' Acre where Simon's remains are interred.
The family visited Simon's gravesite in line with Heroes' Day formalities ahead of another show at Chinhoyi Stadium. Fans that attended the show say Angela was conspicuous by her absence and NewsDay is informed she could not make it to the stadium due to the health condition. She had to take another bed rest.
On arrival from Chinhoyi on Tuesday morning, she was taken to the surgery in Chitungwiza where she has been admitted.
Simon's only surviving brother, Allan, yesterday said it was the first time Angela suffered such a calamity.
"It just happened. It is new to us, but she is now well. I talked to her yesterday (Tuesday) and she said she is well. I am going to see her today and I will come back to you," said Allan. Angela's step-son Sulumani said she had been depressed since the commemorations began and could have sunk into emotional memories of more than eight years ago.
"She has been really touched by the support we have received during this time and this has apparently rekindled memories of her time with my father," said Sulumani.
"At times she would cry after the events lamenting how she wishes her husband was alive. It has been an emotional time and we are sure the high blood pressure was a result of that stress and depression." Sulumani said doctors had indicated Angela would be discharged by yesterday evening.
The way Simon Chimbetu commemorations were held this year could have emotionally excited Angela. It was the first time that a local musician was remembered in such a great way.
The tribute concert that was held at Belgravia Sports Club last Wednesday was a classic event that surpassed many attendees' expectations. It was a glamourous world-class event.
The large crowd that descended on the Harare Gardens on Sunday was evidence of the nature of respect Simon earned among music fans. Thousands of fans celebrated the dendera legend's life.
The commemorations continue with shows outside Harare until the end of the month.