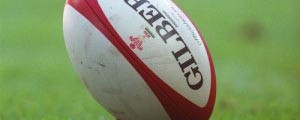 CAPE TOWN — Demetri Catrakilis wants to use the upcoming Currie Cup season to play open a spot in the Springbok squad for the end-of-year tour to Europe.
Sapa
Catrakilis (24) will return to Cape Town to play for Western Province (WP) after Eastern Province agreed to release him until the end of October.
He was WP's hero when he helped them win the Currie Cup last year by beating the Sharks 25-18 in the final in Durban. He kicked two vital drop goals which gave WP their first title in 11 years.
And now he is aiming for higher honours.
"It was part of the plan. Hopefully I can play good rugby and do my bit in a successful campaign and come into consideration for the Springboks," he said.
"I wanted to slot in with a Premier League team for the Currie Cup and I spoke to Mr Wakefield (Thelo Wakefield, WP president) after our last game against the Stormers. I have high regard for him.
"He was eager to make it happen and I also know the guys in the Cape. My experience in last year's Currie Cup was unbelievable."
Catrakilis, however, is out of rugby for five more weeks with a shoulder injury and he will have to fight it out for the number 10 jersey with Gary van Aswegen when he returns to action.
WP start the defence of their Currie Cup crown with a game at home to the Bulls on Saturday, 17:05 kick-off.