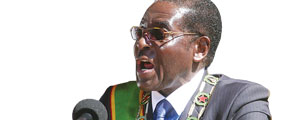 PRESIDENT Robert Mugabe will be sworn in by Chief Justice Godfrey Chidyausiku at the National Sports Stadium today to mark the beginning of his eighth term, and probably last, in office with the nation and the world at large eagerly waiting to see if he will give any new impetus to a country that has not witnessed meaningful social and economic development over the past decade.
NewsDay Editorial
The country has been hurting and bleeding due to poor policies and bad governance grounded in corruption by the ruling elite and general policy paucity and outright bad governance by Mugabe and his Zanu PF party between 1990 and 2009.
The coming-in of the inclusive government in February 2009 gave hope to a country that was in a vegetative situation, gradually and surely morphing into a failed state.
Economic stability was restored, but the political cacophony rambled on with key critical reforms not undertaken up to July 31 when the electorate was stampeded into harmonised elections whose outcome has now been disputed by outgoing Prime Minister Morgan Tsvangirai and his MDC-T party.
Mugabe's triumph over Tsvangirai has been applauded by his peers in Sadc, Africa and Asia; and also rejected by the United States, the European Union and Australia.
The Constitutional Court has upheld Mugabe's victory, setting the stage for his inauguration today.
As the conqueror, the nation and the world at large awaits to hear if Mugabe this time around had turned the corner and can pronounce a transformative agenda that would also embrace the vanquished.
The country is crying out for total transformation of governance rooted in democracy and positive statecraft. Policies aimed at entrenching a one-party system and rewarding only the conquerors would retard and will be antithetical to economic and social development as they would seek to empower the few elites.
In his inauguration speech, Mugabe should set the tone and the direction the country will take starting today. He should behave like a statesman and outline policies that will spur economic development.
The President must enunciate a political programme that should embrace the vanquished as part of nation rebuilding. His government should not be a winner-take-it-all. We need a united nation to transform how we transact our politics and economy. Tsvangirai and his MDC-T party, Welshman Ncube and MDC, Simba Makoni and other political parties are critical in moving this country and it's incumbent upon Mugabe to be pragmatic and embrace them as we chart the way forward.
Finally, Mugabe should enunciate a foreign policy that is accommodative to both friends and foes. Win-win solutions and policies have to be crafted for our country to be an active participant in the international community. We need friends, more than they need us.
And the buzzword should be pragmatism Mr President!