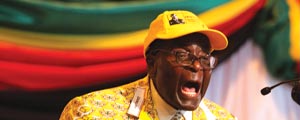 WHATEVER their legal or political motivations in steamrolling the country into another controversial election at the expense of Sadc's advice, the honourable judges of the Constitutional Court may have done Zanu PF greater harm than good.
Sadc's call for a deferment of the polls, albeit for two weeks, was a very explicit admission by regional leaders, who for long coddled President Robert Mugabe, that it is no longer business as usual as Zimbabwe's phony electoral framework requires overhaul.
This alone renders the July 31 polls illegitimate if won by Mugabe and Zanu PF, the key culprits in forestalling any credible electoral reforms.
Observers and monitors from all Sadc institutions cannot possibly uphold the results of a bogus poll conducted without key reforms recommended by their mother body, unless of course MDC-T leader Morgan Tsvangirai wins against all the obvious odds heavily staked against him.
Certainly, not much would have been achieved in transforming the electoral environment within a short two-week period.
By heeding his regional peers' calls for a postponement, Mugabe and the judges would perhaps have won Sadc sympathy in the event he wins the polls by hook or crook. They hence had nothing much to lose by allowing for the short Sadc-recommended delay.
Few are persuaded by Mugabe's calls that he is only complying with a judicial order. Perceptions that he manipulates the judiciary by appointing pliant judges are real. The Supreme Court's own poor record in asserting and upholding fundamental rights does not do it or Mugabe any favours either. Chief Justice Godfrey Chidyausiku's inordinate delay in hearing MDC court petitions after the 2002 elections, until the appeals were overtaken by events, is still fresh in the minds of many.
Justice minister Patrick Chinamasa's half-hearted application for deferment of the polls after the Sadc directive in Maputo was in fact a signal to the honourable judges that they should not change the July 31 date.
Perceptions of collusion between Zanu PF and the judiciary, even if wrong, will inevitably shape opinions of monitors and observers of the polls.
Credible information emanating from Pretoria suggests that President Jacob Zuma is seething over Mugabe's characterisation of Zuma's own adviser, Lindiwe Zulu, as a "street woman".
Mugabe's invective on Zulu and by implication on Zuma himself will not simply be ignored by Pretoria and the rest of Sadc as the mere senile rantings of the ageing leader.
Thank God we are now rid of Thabo Mbeki and his open bias against Tsvangirai. President Zuma is a man of principle. Indications are that Zuma will most likely influence a Sadc revolt against any outcome that favours Mugabe.
What all this means is that there is no real tangible benefit for any fair-minded Zimbabwean to vote for Zanu PF. The consequences flowing from a likely negative Sadc verdict on the upcoming polls, should Mugabe and his Zanu PF win, after the regional body's advice was ignored, are too ghastly to contemplate for Zimbabwe.
Zimbabwe will face further isolation and Mugabe will remain an international pariah. Real sanctions against the Mugabe regime may ensue.
A Mugabe victory will basically plunge us back to 2008. There is simply no way Zimbabwe can afford another Zanu PF term. Zimbabweans, tired of mass poverty, must read the signs.
Apart from the consequences of Mugabe and his Judiciary's decision to ignore Sadc's advice and steamroll a bogus election, there is another key reason why Zimbabweans should flush Zanu PF into the sewer where it rightly belongs: the sheer folly and stupidity of its so-called 2013 election manifesto.
To imagine that a party that has been in power so long has in its ranks "strategists" capable of producing such trash is unbelievable. One thing is clear from this manifesto: Zanu PF cannot run a country. It has no ideas to achieve sustainable economic growth.
After 33 years in power, the bedrock of Zanu PF's policies is the seizure and redistribution of wealth. No clue about how to create the wealth first.
The manifesto makes it easy to understand why Mugabe has completely murdered a promising economy he inherited from Ian Smith in 1980.
Zanu PF pledges to confiscate, without compensation, 51% of shareholding in 1 139 companies claiming this will yield $7 billion cash for injection into the economy. It's all very fine and high- sounding to say every company of a certain value be owned by black Zimbabweans. The only problem is that the idea is as delusional as it is stupid for it neither spurs economic growth nor facilitates that indispensable component of economic prosperity and foreign direct investment.
In fact, we have all heard this typical Zanu PF nonsense before: nationalise and seize everything possible and everybody will live happily ever after. It's all a dog's breakfast.
The manifesto further promises to monetise idle assets and make them productive, among many other kaput proposals. How forced seizures of equities in companies and their transference to black Zimbabweans, who will mostly be inept Zanu PF cronies, will generate substantial revenues is not explained.
Equally staggering is the belief that any Zanu PF government can raise any capital to invest in idle assets and make them viable when Mugabe is doing all he can to alienate everyone who can help his regime. The only feasible way to avoid dragging Zimbabwe into another electoral cul de sac as is to overwhelmingly confine Mugabe and his useless party to the gutters and avoid any Presidential run-off . It's a huge relief that Sadc has come to realise it can no longer coddle a monstrous political party that is a liability to the region and that is responsible for filling mass graves through mass murder and bad policies.
In light of the sweeping changes that would have to follow a change of government, the honourable judges of the Supreme Court may well rue the day they decided to facilitate a bogus election.
Unlike others discouraged by their judgments, I am of the view that the Supreme Court's poorly-reasoned electoral verdicts could as well have lit the prairie fire that ends Zanu PF's traumatic rule.
Of course, that is not the real intention of the honourable judges in delivering their poor verdicts. But there is indeed such a thing called "the law of unintended consequences".
lBasildon Peta is a journalist, lawyer and businessman based in Johannesburg.
Don't we just love election time!
Report by Omen N Muza
A FEW weeks ago I contributed an article to this paper suggesting that elections have some disruptive tendencies. I posited that the period before, during and immediately after elections can be extremely tense and fraught with many forms of danger, which is why election time is probably not a favourite of many.
Much as they have a negative impact on aspects of business performance and general social life, elections have their sunny side, just as a coin always has another side. Principally, we love elections because they hold the promise of change, but a number of stakeholders also love them because they provide an opportunity to monetise campaign processes and electoral activity for commercial gain. Elections are, therefore, as much an economic event — if not a sub-economy — as they are a political one. In this instalment, I look at some reasons why we just love election time.
As they seek to eventually get votes, political parties inevitably have to give something. Accordingly, they spend millions of dollars on the campaign trail on material such as posters, fliers, miniature flags and billboards; providing well-placed companies once-in-five-years supply opportunities. As for posters, we love the dash of colour on the city's walls, but I am not too sure if municipal workers in the cleaning department are particularly enamoured by them. During the campaign period, the largesse of political parties assumes legendary proportions, manifesting itself in freebies such as T-shirts, caps and scarves, all of which must be procured from somewhere.
Newspaper companies smile all the way to the bank when they publish those bright, attention-grabbing full-page advertisements and the mandatory, sometimes voluminous electoral notices by the Zimbabwe Electoral Commission, while advertising companies play a part through their design and media-buying activities. Printers join the fray and claim a piece of the action by printing manifestos, posters and fliers once the design teams have worked their magic.
Don't we just love the drama as rivals across the political spectrum take turns to "decampaign" each other during this period when the common currency is a mixture of lawsuits, accusations, counter-accusations, innuendos, allegations, denials, all of which are meant to capture our attention as voters and transform it into ballot bliss. At least during the campaign season the voter is king, so this must be enjoyed while it lasts because very soon those we elect to represent us will pull impressive disappearing acts, only to emerge from hibernation in five years' time when they seek reelection.
At this time of the year, aren't we amused by relatively unknown quantities such as Kissnot Mukwazhe — and Langton Toungana before him — who emerge during election time to claim their 15 minutes of fame. These relative lightweights courageously step up to the plate to challenge political heavyweights such as Robert Mugabe and Morgan Tsvangirai, but thereafter, we don't get to hear about or from them, probably until the next elections, if ever.
During this season, our attention is gripped by the swirling, heady cocktail of plots, sub-plots and conspiracy theories about this coalition or that, advanced by a coterie of political analysts, commentators and columnists who claim acres of space in daily and weekly newspapers to demonstrate their incisive "all-knowingness".
For once, during election time, communities benefit directly from interacting with politicians. At both individual and party level, aspirants donate generously to communities through chicken-rearing, garden and other such projects.
Boreholes that had long since stopped functioning are quickly repaired and in some instances entirely new ones installed.
As far as entertainment goes, musicians we would usually only hear about and for whom we would otherwise have to pay to watch, are brought to our doorsteps for free by our aspiring representatives; sometimes accompanied by free-flowing alcoholic beverages and meat.
Don't we just love those election-time ZBC TV programmes after the main news when representatives of political parties go on about their manifestos in rapid-fire fashion, presumably due to time constraints. The only thing missing is US-style presidential debates. Now, wouldn't that be something, folks? We would have no choice, but to love election time even more.
Feedback: omen.muza@gmail.com. Omen N Muza writes in his personal capacity.