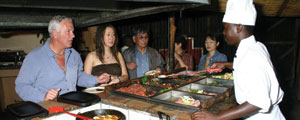 AS the world gears up for the 20th session of the United Nations World Tourism Organisation (UNWTO) General Assembly which runs from August 24 to 29 in Zambia and Zimbabwe respectively, the tourism industry in Victoria Falls is working flat out preparing to host delegates who will descend on Zimbabwe in a month.
Melissa Mpofu
The UNWTO recently put its final seal of approval on Zimbabwe and Zambia hosting its General Assembly, while the local Inter-Ministerial Committee is satisfied with preparations thus far.
The fact that about 186 ministers of tourism, captains of industry from across the globe, tourism wholesalers and other stakeholders will descend on Zimbabwe is indicative of the meeting's profile and the mileage Zimbabwe will gain from hosting it.
The UNWTO plays a central role in promoting the development of responsible, sustainable and universally accessible tourism with a focus on the interests of developing countries.
Its membership includes 161 nations and more than 300 affiliate members representing the private sector, educational institutions, tourism associations and local tourism authorities.
I recently travelled to the resort town of Vic Falls two weeks ago on a fact-finding mission to see how ready the resort town was to host the general assembly.
I flew with Air Zimbabwe from Harare and landed smoothly at Vic Falls Airport in an hour. What was impressive at the airport was the work being done by the Civil Aviation Authority of Zimbabwe (CAAZ).
CAAZ remarkably completed a 4 000-metre stretch of runway and other improvements at the Victoria Falls Airport. Work is still in progress as the crew is working tirelessly on the airports facilities.
Besides the ongoing upgrading, CAAZ also plans to put up passenger servicing amenities and artificial barricades to facilitate clearance of delegates.
What was a bore though is that people had to crowd in one small area to collect their luggage considering that the airport has a dysfunctional baggage carousel. It was a hustle identifying luggage. When I finally got my luggage, I was then welcomed by a driver who was patiently waiting outside to ferry me to the hotel.
Quite friendly he was and as we drove to town, I saw that the road leading into town was being resurfaced while other infrastructure had already had a facelift.
I checked in at the Kingdom Hotel, but I must admit, I was not impressed by the service there. The world over, Zimbabweans are known for their first wonder, which is the beautiful people.
When I was checking in, the attendants barely smiled and actually looked sad. I have slept in several local hotels and have had over 10 different people greeting me in a day with smiles, but this was not the case at Kingdom Hotel.
I then went to my room which was not really a marvel considering that they still have the small old television sets.
The saving grace though was that some of my favourite channels were available on their bouquet and I was provided with free Wi-Fi connection making it easy for me to make use of social media platforms such as Facebook, Twitter and Instagram.
I love my food and fortunately, the Kingdom has good cooks, the food there is brilliant. Their pool deck is also a great place to relax and unwind sipping on a drink. I always used to relax there sharing my experiences with other guests.
The hotel has a lot of entertainment activities including a Casino for gamblers and a popular night club in Vic Falls, Wild Thang. Since I'm not much of a clubber, I decided to try gambling. Indeed I enjoyed the blackjack and roulette and was lucky to walk out with a few extra dollars.
The next morning I took a walk to town to see how prepared the rest of the town was for the UNWTO summit. I was impressed to see that the resort town is very clean and quite safe to stroll in. I spotted a new art gallery being built specifically for the UNWTO delegates while many traditional restaurants have been opened to offer guests a variety.
I then headed to the Elephant Hills hotel, which will be the official home for the UNWTO delegates.
There I saw work being done on the prefabricated semi-permanent structure where some of the conferences will be held.
I also spotted the Econet team placing 3G in-building sites for signal enhancement within the hotel. Econet will also set up a Communication Command Centre for use by the UNWTO secretariat at the same hotel.
I then went back to the Kingdom hotel and prepared for dinner. As I was having dinner, I was happy to see the hotel training more staff as they prepared to host the delegates who will be residing at their hotel during the UNWTO summit.
After dinner, a traditional group performed to entertain residents. Foreigners could be seen dancing with the group with excitement. Besides the summit itself, a lot of entertainment activities have been lined up for the delegates.
The events include a UNWTO welcome Carnival which will be held on August 23 to showcase some of Zimbabwe's diverse cultures.
A tourism night featuring different African acts will follow on August 24. A bush party will be held at Jafuta, a few kilometres out of Vic Falls.
Guests will be ferried to the venue by a steam train which will have a bar and DJ entertaining them along the way. Sunset cruises will be held during the summit aboard the Zambezi Explorer, which is the biggest boat on the Zambezi River.
Since Victoria Falls is a tourist resort, delegates will be spoilt for choice with activities to do including a guided tour of the Vic Falls, elephant back safaris, game drives, white water rafting, bunjee jumping, bridge tours, Flight of Angels (helicopter), game walks and cultural village tours.
Considering that Zimbabwe Tourism Authority (ZTA) chief executive, Karikoga Kaseke said the joint hosting of the UNWTO conference in Victoria Falls would be a game changer as it presents an opportunity for the country to rebuild its battered image, hoteliers and other tourism players need to up their game if Zimbabwe is to make a positive impact to the world during the summit.
Courtesy of the UNWTO, Zimbabwe may soon cement its position as a safe destination with the conference being an opportunity for image transformation.