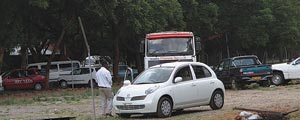 The Public Service Commission  has directed all ministries and parastatals to surrender vehicles by tomorrow in provincial offices in preparation for the July 31 harmonised elections and police have been instructed to impound all unsurrendered vehicles.
Nqobile Bhebhe
Last week's two-day special vote was marred by chaos as voting material arrived late at most polling stations.
PSC chairman Mariyawanda Nzuwah issued a statement yesterday saying the vehicles would be required to transport election staff and material.
"Government requires vehicles to transport election personnel and materials for the July 31st harmonised elections to all parts of the country," Nzuwah said.
"Accordingly, the Public Service Commission is directing heads of ministries to surrender all government vehicles, that is, one-tonne to 10-tonne trucks, single cabs, twin/double cabs and utility vehicles, to the Public Service Commission by 1200 hours on 23rd July 2013."
Nzuwah said in case where the vehicles were required by line ministries for essential services, clearance should be sought from PSC.
"Heads of ministries are advised to seek Public Service Commission's clearance for vehicles to be retained for the provision of essential services," Nzuwah said.
"Heads of ministries are also required to ask parastatals under their ministries to surrender trucks with carrying capacities ranging from one to 10 tonnes. Surrendered vehicles should be accompanied by a ministry or parastatal driver."
However, police have been ordered to impound all vehicles that would not have been surrendered.
"The Zimbabwe Republic Police has been requested to stop and impound unsurrendered vehicles with effect from Wednesday, 24th July 2013 and to immediately escort the vehicles to the nearest CMED or Public Service Commission office."
Zimbabwe Electoral Commission deputy chairperson Joyce Kazembe last week admitted that the commission was ill-prepared for the special vote as they encountered delays in dispatching ballot papers to the voting centres.
"We admit we underestimated the process," she said.
"By next week all ballot papers for July 31 will be ready." "Voting at most polling stations started at a slow pace at most centres. This was mainly due to the fact that we delayed dispatching ballot papers to the centres."