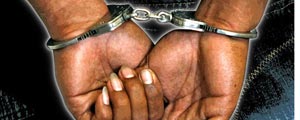 JAMES Mwarira (25), the pastor who was recently jailed for an effective 5 years for dealing in gold without a licence and had been said to belong to Emmanuel Makandiwa's United Family International Church (UFIC), does not have any links with the church.
Mwarira was arrested at a jewellery shop along Kwame Nkrumah Avenue in Harare with nine grammes of gold worth $429,26 wrapped in an old Zimbabwe bearer cheque note.
Initially, when he appeared in court on July 1, the State papers stated that Mwarira was a pastor with UFI Kambuzuma Church, but his lawyer Victor Zvobgo recently cleared the air in court during mitigation. He said Mwarira was in fact a pastor with Family Jubilee Ministries.
"Your Worship, there is a lot of confusion as regards my client," he said. "May it be put on record that my client does not belong to UFI."
In mitigation, Mwarira produced payslips to prove that he was employed by a local mine which authorised him to be in possession of the gold.