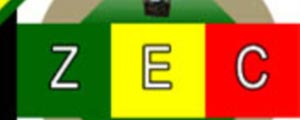 THE Zimbabwe Electoral Commission (Zec) is yet to announce the number of members of the uniformed forces and civil servants who voted under special voting last week.
Phillip Chidavaenzi/Wonai Masvingise
Last week, Justice minister Patrick Chinamasa claimed 29 000 people out of the 69 000 that had been authorised to vote were able to cast their ballots. Chinamasa is, however, not the authority mandated to make such official announcements.
Zec, which is the authority legally mandated to disseminate any information regarding polls, has remained curiously quiet.
Contacted for comment yesterday, Zec spokesperson Shupikai Mashereni asked NewsDay to officially recognise the figures announced by Chinamasa, but later referred the newspaper to the electoral body's chief elections officer Lovemore Sekeramayi.
"I thought those numbers were already public," Mashereni said, referring to Chinamasa's announcement.
"You think the minister could have lied about those numbers? He is a minister. Maybe you want to hear it from the horse's mouth. Call the CEO (chief elections officer), but he is currently busy dealing with that (special votes) issue at the HICC (Harare International Conference Centre)," he said.
Efforts to reach Sekeramayi were fruitless.
Meanwhile, Zec yesterday started distributing the special vote ballots from the country's 10 provinces to their respective wards under the watchful eyes of the different political party agents. This followed the opening of the special vote packages by Sekeramayi last Friday under the provisions of the Electoral Act.
After that, the ballots would then be sent to the different provincial command centres and then to the district centres before distribution to the respective wards where they would be counted together with the other ballot papers to be cast on July 31.
The special voting process was marred by late delivery of ballots at most voting centres forcing Zec to give the estimated 40 000 members of the uniformed forces who failed to vote a second chance to cast their ballot with the rest of the electorate on July 31.