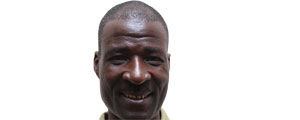 THERE is nothing that best exemplifies the spirit of community building than the work being undertaken by 42-year-old Edmore Aaron of Dzivarasekwa, Harare. Report by Yvonne Nenguwo
In 1995 Aaron started the project Texcraft with the aim of imparting his knowledge in creative arts to members of his community in Harare's Dzivarasekwa suburb. He was imparting skills in screen printing, visual arts, painting, batik, music and drama so that the members of the community could use this knowledge to start projects of their own and create employment for themselves.
Aaron's history in art dates back to 1998 when he used to display his work in the Harare Gardens. It was during this time that a group of Germans saw his work and appreciated his talent.
One of them, Bridget O'Connor, suggested that he joins their centre in Mount Hampden, just on the outskirts of Harare off the highway to Chinhoyi and Kariba for training. Aaron accepted the offer.
Fambidzanai Training Centre is a self-reliant skills centre and for four years Aaron trained specialising in creative arts. Aaron graduated from Fambidzanai with a certificate and went back to Dzivarasekwa and talked to council about training creative arts to members of the community.
He was then recommended to pursue further training at Rowa Training Centre in Mutare. After this there was a further recommendation that he attends another programme at Danhiko so he could learn to train other people.
In 1995, he started using the community hall in Dzivarasekwa to train people in how to make a living out of creative arts. The people only had to buy the required materials and he would teach them skills in batik, tie and dye and screen printing free of charge.
At this time Environment Africa and Goal were looking for volunteers for their campaigns. They identified him because of his training as they wanted people who were working with the communities.
So he began on environmental awareness campaigns in Dzivarasekwa with Environment Africa and with Goal, clearing up dump sites and drainages which helped in fighting the cholera outbreak that was there at that time.
Aaron continued with his training while working on these campaigns. The project has since grown beyond Dzivarasekwa and its footprint has reached as far as Bulawayo. After training some of the residents of Dzivarasekwa ain creative arts Aaron also introduced them to the markets so that they could have a place to start when they ventured out and started their own projects.
At least 400 people have been trained with the largest number being members of the Dzivarasekwa community. Eighty-five people were from the Zimbabwe Homeless People's Federation, 150 were teachers from Murehwa and 25 were from the Zimbabwe Parents of Handicapped Children's Association.
Winnie Katemwa (31), was trained by Aaron in 2004 and says this has opened a lot of avenues for her. She is now involved in garment manufacturing and works with batik and screen printing. The training has helped her and many other people because after training it becomes easy to work on individual projects.
Clayton Tamanikwa was trained as part of the group from the Zimbabwe Homeless People's Federation during the period 2009 to 2010. The training helped them a lot and they have managed to use it to work on a number of projects. They specialized in batik and interior decorating but now they even make T-shirt printing and these projects have enabled them to generate incomes.
Part of the group of people from the Zimbabwe Homeless People's Association that was trained by Aaron has been able to use their training to improve their quality of life.
Norman Chimombe is a resident of Dzivarasekwa. He trained with Aaron at the Dzivarasekwa community hall. The training helped him to start his own project and now he sells sculptures of all sorts at Sam Levy's Village, Borrowdale and in Avondale.
Through his training Aaron has assisted a lot of people to overcome unemployment. The people he has trained have even gone further because of new technology and computers and they now run successful projects.
Norman Chimombe is among those that were trained and he now sells sculptures at Avondale and Sam Levy's Village in Borrowdale.
Aaron was also approached by the Co-ordinator of Arts in Murehwa and in 2010 trained about 150 teachers. They are using the training they got to teach their students. Since he started Aaron was operating from the community hall in Dzivarasekwa. The people he trained were only required to pay for just their materials while he taught them, different skills in creative arts.
His training covers skills in batik, screen printing, visual arts, painting, drama and music.
Early this year Aaron moved from his base, Dzivarasekwa community hall, to train from town because the hall was no longer available for him to use for free.
Since his move to town he now goes to the people to train them instead of them coming to him because the space he has is now smaller and cannot accommodate a lot of people.
He also co-ordinates programmes to train youths art and environmental awareness. The project is self-sustaining.
The people seeking training pay for the materials necessary and Aaron just imparts his knowledge.