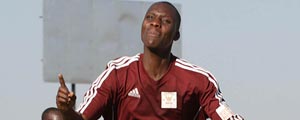 THE 2012 Castle Lager Premier Soccer League top goalscorer Nelson Mazivisa has rejoined FC Platinum from Shabanie Mine. Report by Vitalis Moyo Sports Reporter
FC Platinum also received a further boost after Zambian defender Aaron Katebe agreed to join the club after initially being linked to champions Dynamos.
Mazivisa and Katebe were part of the 11 new players that were named in a Press release by the Zvishavane-based FC Platinum yesterday afternoon who form part of their 2013 season campaign.
Former Hwange goalkeeper Petros Mhari has reunited with his former coach Tennant Chilumba at FC Platinum.
Raymond Sibanda and Frankson Bushire have been recalled following stints with neighbours Shabanie Mine.
Kugona Kunenge Kudada also captured promising youngster Mhleli Sibanda who was with Quelaton and national Under-20 twins Kelvin and Elvis Moyo from Bantu Rovers.
The Zvishavane-based outfit released 13 players from their previous squad while promoting some of the players, who were turning up for their Under-19 side, into the senior squad.
The club has put its faith in youthful players as they aim to improve on their seventh place finish in the 2012 season. Young Terrence Rukweza has been promoted from the U-16 team to battle for a place in the senior team along with shot stopper Talbert Shumba.
Former captain Zephaniah Ngodzo, Cabby Kamhapa, Thandazani Ndlovu, Hardlife Mavundi, Rowen Nenzou, Norman Togara and Tsungi Mudzamiri were among the players offloaded by the club earlier this year.