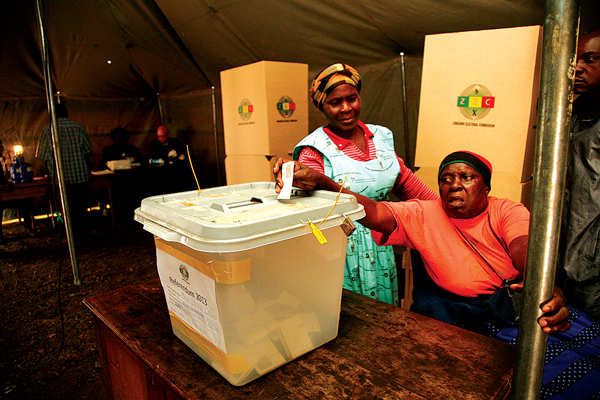 HARARE — Seven months into the new presidency, and just a month before elections — the first without Robert Mugabe since independence — Zimbabweans are telling a story of lost hope.
Daily Maverick
"What difference does it make? I don't expect the elections to change anything for me. I am just here trying to make ends meet and look after my family while I wait for my dying day," was what Nicodemus Nhete, a 58-year-old vendor in the streets of Harare, had to say about the forthcoming elections.
Nhete is among millions of Zimbabweans whose hopes had been raised by the new dispensation in Zimbabwe in November 2017 following the removal of Mugabe from the presidency.
Newly-appointed President Emmerson Mnangagwa, promising to turn around the country's economic fortunes within a short time through his "Zimbabwe is open for business " mantra, which he sold to the international community, had raised so much hope for the people.
Now, just a month before the harmonised elections, the first without Mugabe since independence, Zimbabweans are short of it.
Twenty-three presidential candidates have thrown their hats into the ring, but the serious contest is expected to be between Mnangagwa and MDC Alliance presidential candidate Nelson Chamisa, who took over from Morgan Tsvangirai in February 2018 after the veteran opposition leader lost his battle with colon cancer.
But Nhete, a former soldier with the Zimbabwe National Army, believes the forthcoming elections are just a passing event which will not bring any significant change to his life and those of other Zimbabweans.
"Whoever becomes the new leader will still loot the country's coffers and leave nothing for the ordinary man. So I am not really worried about who wins the election. I will concentrate on my business," he said.
Nhete, who has been selling a wide range of spectacles and other small accouterments since the 1990s, said he was living from hand to mouth.
He lamented how the cash crisis, which has triggered the three-tier payment system, was eating into his profits, which were small anyway.
"At independence, we expected to have freedom, jobs and a stable economy, but things got from bad to worse. The regime of Ian Smith was much better because he paid us enough to survive and still have a little more to save. Nowadays, salaries don't last a week and people are living from hand to mouth," he said.
The colonial Smith government promoted white hegemony and oppressed the black majority in Zimbabwe, but, according to Nhete, never denied people their meagre wages.
Smith surrendered power to Mugabe at independence in 1980 after a negotiated settlement which followed a protracted armed struggle.
Eighteen-year old Chantelle Emmanuel, who dropped out of school in 2017 and was earning as little as $50 per month selling second-hand clothes in Harare, said she was struggling to save money to start her own business.
"The situation is desperate. I am failing to save anything because the little I'm getting comes in bits and pieces. I also have to assist my mother, who is single, to fend for seven other siblings," she said.
Emmanuel's ambition was to get back to school and hopefully find a good job if the new government provided a conducive environment for sound economic activities.
Shalom Zanowe, 23 and a mother of two, who commutes from the dormitory town of Chitungwiza to sell lemons, garlic and ginger in the central business district of Harare, said her fears were that the government would expel them from the streets soon after the elections.
Zanowe was not sure whether whoever formed the next government would be able to create any meaningful jobs.
"They are not being sincere with us by allowing us to work from the streets but we know they will kick us out once the elections are over," she said, adding they had already been warned they would be moved to a place on the outskirts of the city after elections.
While she was employed in a boutique in Harare, Lorraine Gwati said she was occasionally sent on unpaid leave and had to hustle in town, where she exchanged foreign currency at the Copacabana Bus Terminus in central Harare.
The 38-year-old Gwati said things were not good in Zimbabwe at the moment and there was need for a change of guard.
"All I am praying for right now is that at the end of polling on July 30, we will have a new government. All we want now is a new leader; we need to give some fresh minds a chance," she said.
According to the Zimbabwe Congress of Trade Unions (ZCTU), the biggest labour representative body in the country, union membership dwindled from around 500 000 to just over 100 000, reflecting a 500% decline in employment in the country over the past two decades.
ZCTU secretary-general Japhet Moyo said while the official unemployment rate appeared to be lower than that of 20 years ago, and joblessness was ever-present.
"If you look at the trends, we now have more precarious work. In the 1980s, people were enjoying formal jobs and what is now deemed informal work was not there. But today we are told that unemployment is at 11%, but how many are in the streets doing nothing? The problem now is the definition of unemployment, where people selling in the streets are deemed to be 'self-employed'," he said.
He said there were serious structural changes, with traditional heavy and light industries replaced by informal industries operating from open spaces.
According to the Interim Poverty Reduction Strategy by the Finance ministry in Zimbabwe, the unstable macro-economic environment during the 2000-2008 period led to massive retrenchments due to company closures or downsizing.
The report further revealed that employment in the formal sector declined from 1,4 million to just under one million by the end of 2014, noting that Zimbabwe's total public and publicly guaranteed external debt was estimated at $7,5 billion, 52% of gross domestic product, as at June 2016.
The education sector was not spared, with the number of children receiving educational support under The Basic Education Assistance Module (Beam) declining from 460 239 to 10 817 in 2015.
Beam is a government facility that supports disadvantaged children with school fees.
According to a United Nations Children's Fund report, Zimbabwe's health sector, which in the 1980s was one of the best in sub-Saharan Africa, had nearly collapsed when a major economic crisis caused hyperinflation of more than 230 million percent in 2008.
The report noted that the situation was exacerbated by chronic under-investment in the health sector.