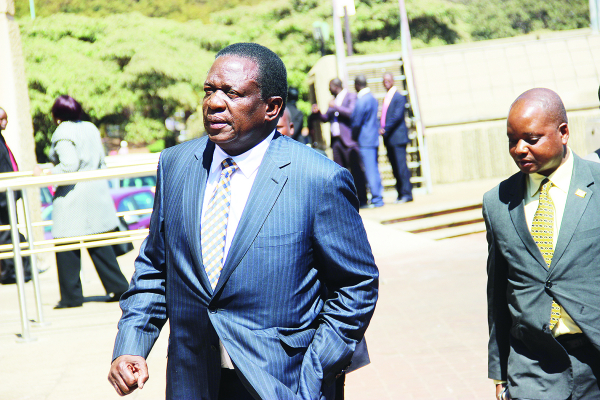 Former Vice-President Emmerson Mnangagwa stands a leg in as Zimbabwe's next leader after President Robert Mugabe stepped down yesterday – ending a 37-year old reign.
BY staff reporter
Mnangagwa – popularly known as the Ngwena (crocodile), had been Mugabe's right-hand man for more than 52 years before he was unceremoniously sent packing two weeks ago.
He joined the liberation struggle in 1960 after he was expelled from Hodgson Technical College for political activism.
The Zanu PF Midlands political godfather was recruited into active politics in 1962 through the Zimbabwe African People's Union (Zapu) by Willie Musarurwa and then shifted to join Zanu in 1963.
Before ditching Zapu in April 1963, Mnangagwa, along with 12 other Zapu members, went to Dar es Salaam and to Heliopolis for military training at the Egyptian Military Academy.
Mnangagwa was later sent to China with other Zimbabwe African National Liberation Army (Zanla) cadres, where they spent the first two months at the School of Marxism at Peking University in Beijing. Combat training was conducted in Nanking for the next three months.
Mnangagwa subsequently remained at another school for military engineering.
He was later to be appointed as Mugabe's personal assistant in 1977 and at times doubled as his bodyguard during the armed struggle.
He served jail time with Mugabe, and according to his recent statement, he viewed the 93-year-old leader as his father after learning a lot from him.
After independence in 1980, Mnangagwa was tasked with organising the State security department and took over as chairman of the Joint High Command after army general Peter Walls was dismissed.
The task involved responsibility for the integration of Zanla, the Zimbabwe People's Revolutionary Army (Zipra) and the Rhodesian Front.
After the 1987 Unity Accord deal between Zapu led by the late Vice-President Joshua Nkomo and Mugabe's Zanu, Mnangagwa was appointed Justice minister before he lost the Kwekwe Central parliamentary seat to Blessing Chebundo of MDC in 2000.
However, Mugabe appointed him to one of the unelected seats in Parliament and was elected as Speaker of Parliament on July 18, 2000.
It was during his time as Speaker of Parliament that the United Nations investigation into illegal exploitation of natural resources from the Democratic Republic of Congo recommended a travel ban and financial restrictions on Mnangagwa over his alleged involvement in making Harare a significant illicit diamond trading centre.
In the March 2005 parliamentary election, he was again defeated by Chebundo in Kwekwe and Mugabe again appointed him a non-constituency MP.
He was demoted to a lesser influential post of Rural Housing and Social Amenities minister in 2005 following the elevation of Joice Mujuru to the post of Vice-President.
Mnangagwa served as Defence minister from 2009 to 2013. He was the longest-serving Justice minister in Mugabe's regime.
A long-time ally of Mugabe and a senior member of the ruling Zanu PF party, Mnangagwa served as Vice-President of Zimbabwe from 2014 until his dismissal on November 6 2017.
The incoming President was opposed by the Generation 40 faction led by Mugabe's wife, Grace.
After being dismissed from his position by Mugabe for allegedly plotting against the government, he fled to South Africa and warned that he would return in a few weeks' time to remove Mugabe and his cohorts.
Zanu PF has since appointed him interim leader and presidential candidate for the 2018 elections.