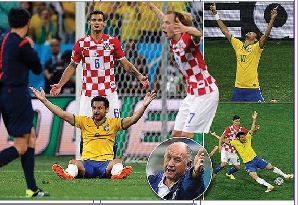 SAO PAOLO – Brazil exploded with street parties as its soccer team won the World Cup's opening game on Thursday, but scattered violent protests were a reminder that many locals remain angry over the billions spent to host the tournament.
Reuters
Millions of fans dressed in Brazil's canary yellow, green and blue home colours, cheered throughout Brazil's victory over Croatia in Sao Paulo and continued the revelry into the night, with a heavy presence of police and troops to maintain order.
The country briefly fell silent when Croatia took an early lead, but fireworks, horns and drum beats reached a crescendo as Brazil rallied for a 3-1 win.
Despite worries over traffic and the Sao Paulo stadium, which was completed six months late and wasn't fully tested before the game, there were no reports of major logistical problems before or after the game.
Brazil's coach, Luiz Felipe Scolari, after the game praised the stadium as "incredible" and "fantastic".
The smooth first game, and especially the victory, raised the spirits of many who feared the worries of the past year could spoil the party.
"Despite all the controversy, this is the World Cup and we are Brazilians. We need to forget about all that now and cheer," said Natia Souza, a fan in downtown Sao Paulo.
President Dilma Rousseff, who attended the game and has defended the Cup against criticism ahead of her bid for re-election in October, was jeered by many in the stadium crowd and by fans at big-screen viewings across the country.
The tournament's run-up was largely overshadowed by construction delays and months of political unrest with many Brazilians furious over $11 billion being spent to host the Cup in a country where hospitals and schools are often poor.
Protests flared on Thursday in many of the 12 Brazilian cities that will host games, including Sao Paulo, Rio de Janeiro and Belo Horizonte. Some gathered more than 1 000 people, while others saw just a few dozen.
Late in the morning, police fired tear gas, rubber bullets and noise bombs to disperse about 600 demonstrators who gathered in eastern Sao Paulo, about six miles (10km) away from the Corinthians arena where the game took place.
Activists and human rights groups criticised some of their tactics. One protestor, already hit by rubber bullets, was photographed in a choke hold by one police officer while another blasted pepper-spray in his face.
Six people were injured, including some journalists, a police spokesman said. Three protesters were arrested.
More than 10 were arrested in the southern host city of Porto Alegre, a police spokesman said. Demonstrators there overturned a police car and smashed bank windows.