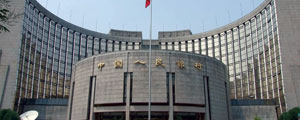 BEIJING — China's central bank may tighten policy moderately as inflation creeps up,  relying on money-market liquidity adjustments rather than blunt tools such as interest rate rises, a policy adviser to the central bank said yesterday.
Reuters
Market expectations are growing that the People's Bank of China may put a brake on the fast credit expansion seen in recent months, a view fuelled by its move yesterday to hold back from liquidity operations for the second day running.
"It (policy) will only be tightened slightly as inflation is rising. There are some concerns on bank lending," Song Guoqing, an academic member of the central bank's monetary policy committee, told Reuters.
"Policy fine-tuning will rely mainly on open market operations and I cannot see any possibility of changing interest rates or bank reserve ratios," Song, an influential economist at Peking University, said.
The annual consumer inflation rate crept up to a seven-month high of 3,1% in September as poor weather drove up food prices, data showed last week.
Yesterday, data showed home prices in China's cities rose the most in nearly three years in September, adding to fears of a property bubble that is set to test policymakers ahead of a key economic reform meeting due next month.
Yet Song said consumer inflation rather than asset prices remained the benchmark indicator for the central bank in adjusting its policy.
Song said he did not foresee any further sharp rises in consumer prices as overall demand remains steady and there is limited upside for the world's second-largest economy.
Consumer inflation is likely to be 3,1% in the fourth-quarter, bringing the full-year rate comfortably below the government target for 2013 of 3,5%, he said.
China's central bank last week pledged to uphold its prudent policy with timely fine-tuning, while blaming capital inflows for much of the recent credit expansion.
The economy may grow 7,5% in the fourth quarter, slowing from 7,8% in the third quarter, but the full-year expansion could still be 7,6%, higher than the official target of 7,5%, he predicted.