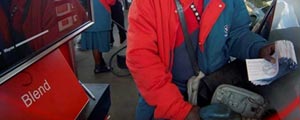 Fuel prices are expected to go down after the deadline for fuel industry players to clear their stocks and pave way for mandatory blending of anhydrous ethanol, an official from the country's energy regulator has said.
Tarisai Mandizha
Mandatory blending of anhydrousethanol will result in the production of E10, E15 and E20 fuel to be used by motorists.
Zimbabwe Energy Regulatory Authority (Zera) chief executive officer Gloria Magombo told NewsDay yesterday that the statutory instrument had been gazetted and implementation will begin on Thursday.
"The new prices will only take effect after the fuel industry players have cleared their stocks, but the prices forservice stations will be different for a while," Magombo said.
"We are expecting the fuel prices to come down except if the international fuel prices go up."
Zera last month gave a 60-day ultimatum to all fuel industry players to clear all their unleaded fuel stocks and put correct labelling of all ethanol blends, failure of which licences would be revoked.
The regulatory authority said it was currently investigating what was currently happening on the international market to control fuel prices.
"There is always lagging behind on time, but there is a time as a regulator we expect people to clear their stocks, so we then start to expect a change."
Magombo said on mandatory blending, Zera had put November 10 as the actual implementation date.
Government has amended energy laws to give effect to mandatory blending of anhydrous ethanol with unleaded petrol. Government last Friday gazetted a statutory instrument giving legal effect to the new blending policy.
Zimbabwe's petroleum players are expected to comply with new mandatory blending levels by April next year as government pushes to contain the country's import bill.
The $600 million Green Fuel ethanol project in August resumed production of anhydrous ethanol for blending with unleaded petrol at its plant in Chisumbanje, two years after it went idle as government contested its ownership structures.
Production of ethanol at the plant was stopped in February 2011 over the company's shareholding which was not in sync with the country's indigenisation laws.
Ethanol uptake, according Zera, more than doubled to 2,2 million litres in September from July's consumption spurred by the introduction of E5 mandatory blending, E5 contains 5% ethanol and 95% petrol.