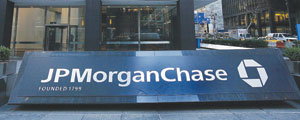 LONDON — JPMorgan is suing Berlin's public transport provider in a British court to recover the $204 million plus interest it says it is owed over an "unfortunate" derivatives contract taken out before the financial crisis.
Reuters
The lawyer for the United States bank said Berliner Verkehrsbetriebe (BVG) was looking for anyone other than itself to blame for the losses on the collateralised debt obligation (CDO).
"Rather than simply accepting that it had been unfortunate in the events that happened in the financial markets . . .
"BVG has decided to follow a course doing everything it could to avoid paying its debts . . . casting around for someone to blame other than itself," Laurence Rabinowitz told a London court on the first day of the trial.
Problems arose simply because the transaction occurred just when serious cracks in the world"s financial system were appearing, Rabinowitz added.
BVG, which runs the German capital's underground railway, tram, bus and ferry networks, argues that it was misled by JPMorgan and the bank's law firm, Clifford Chance, and that it did not fully understand the risks involved. BVG is due to begin its defence yesterday.
Clifford Chance said in a statement the "claims against us are misconceived and entirely without merit."
The transport authority maintains that the employee most closely involved in the swap had no experience of the complex financial derivative the bank had pitched to him and misunderstood it, according to court documents.
CDOs are a series of assets, often high-yield junk bonds, mortgage-backed securities, credit default swaps and other products, put together by a bank and sold in tranches according to their level of risk. They were marketed to investors as investments with a defined risk and reward.
Following the 2008 financial crisis many investors who lost tens of millions of dollars through such investments have questioned what banks knew when they modeled such products and a number have brought legal action against the banks.
Industry experts have also argued that some organisations may have lacked the sophistication to understand CDOs.