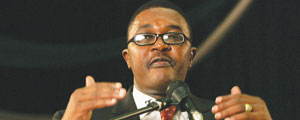 ZIMBABWE is ready to host the forthcoming United Nations World Tourism Organisation (UNWTO) general assembly amid concerns that Wednesday's elections could affect the global convention, a senior government official has said.
Business Reporter
Addressing delegates attending the Alpha Media Holdings UNWTO dinner on Saturday, Tourism and Hospitality Industry  minister Walter Mzembi said preparations for the general assembly were nearing completion.
Zimbabwe and Zambia will co-host the 20th session of the UNWTO general assembly from August 24 to August 29 in Victoria Falls and Livingstone respectively.
AMH Conversations was launched by Alpha Media Holdings to provide a platform for thought leadership discussion on all aspects of business across all sectors. The UNWTO dinner was sponsored by Steward Bank (formerly TN Bank.)
Areas for discussion include economic policy, business strategy, markets, technology and many others that are not only informative and interesting, but thought-provoking and challenging. Responding to a question on whether a disputed outcome of the elections would affect the general assembly, Mzembi said contingency plans had been made by the UN agency without elaborating.
"We have budgeted for that and the UNWTO has also budgeted that there may be acrimony, some of it academic . . . Some will not accept that they have been defeated, but that has been budgeted for," Mzembi said.
"We are going to pull it off. This is not our first major conference. We have hosted Comesa before, which had more delegates. "We have been a victim of perception management, in many cases unfounded. Tourism is a peace bridge, it is also a diplomatic bridge . . . yet it is one of the most vulnerable sectors."
Turning to the standoff between Econet Wireless Zimbabwe and Telecel, Mzembi said his ministry would approach the Transport and Communications ministry to intervene. This comes after Econet switched off Telecel saying the mobile phone operator had no operating licence.
" I am making an appeal to the permanent secretary of Transport: Please in the public interest, can you intervene and make sure that the public will not suffer when two elephants fight?" Mzembi.
Zimbabwe Council of Tourism president Glen Stutchbury said tourism operators operating in the resort town had invested $16 million to ensure the success of the UNWTO general assembly.
He said in 2011 tourism players in Zimbabwe and Zambia successfully provided accommodation for 5 000 tourists who visited Victoria Falls and Livingstone on New Year's Eve, adding that the sector had capacity to host 2 000 delegates expected during the UNWTO general assembly.
Also speaking at the same event, Transport secretary Munesu Munodawafa said government had invested in infrastructure to ensure the success of the event, adding that most of the projects would be completed by the first week of August.
He said national carrier Air Zimbabwe was ready to take a leading role in the UNWTO general assembly after the airline resumed the Victoria Falls-Johannesburg route.