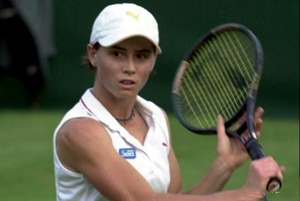 VETERAN Women tennis ace Cara Black said she has no plans of retiring anytime soon, but is actually targeting an 11th Grand Slam title next season with her Indian doubles partner Sarnia Mirza.
BY SPORTS REPORTER
The 34-year-old is currently in Hyderabad for a training camp with Mirza at the Sania Mirza Tennis Academy (SMTA) ahead of the 2014 season which kicks off with the Australian Open next month.
Black spent the 2011-12 seasons out following the birth of first child Lachlan.
She returned to the circuit last season and went to win nine matches on the trot with Mirza as they clinched back-to-back titles at the Pan-Pacific Open in Japan and the China Open title in October.
"Sania is an incredible player and I am very keen to win a Grand Slam with her. Exactly for this reason, we have decided to train together before the next month's Australian Open. Not many doubles teams across the world can afford this sort of privilege. I am fortunate with this and no wonder I don't have any retirement plans as of now. I will love to take it year by year. I am enjoying being back in the circuit and not keen to think of anything else," Cara told India's SportStar newspaper yesterday.
"We are not going to sit back on the two WTA titles we have won. We are dreaming big and want to chase them successfully too. I believe we have the ability and we only have to get the right things at the right time. We have decided to play together in the four Grand Slams next year," added Black.
"It will be foolish to predict what will happen in the Australian Open or for that matter in any Grand Slam. Our job is to work hard, attain the level of excellence desired to produce the kind of results for which we are pairing together. We are definitely enjoying the partnership and we complement each other pretty well on the court too. I have great faith in Sania. We are going to work hard and be patient so that the results will take care of themselves," Cara explained.
Despite her advanced age and for someone who has achieved so much, Black insists that no one can be a complete player.
"You have to keep improving and there is no better way to achieve this than by hours of long practice. For this you have to have passion for the sport and I am still hungry to win many more Grand Slams."
Referring to her grand comeback after being blessed with her child, and how it has been difficult to leave the baby behind for training camps and tournaments, Black said, "I am really pleased with the way things have gone on my comeback. It is really tough to be away from him. But, well, this is a demanding circuit and you have to be at your best right through. There is absolutely no scope to be complacent. And for me there is no better feeling than winning a Grand Slam title," said the veteran of the women's circuit.
"I am always looking to improve in many areas and this makes it more exciting as I train in a different way every day. The next few weeks we will work out tactics to produce the desired results," said Black.