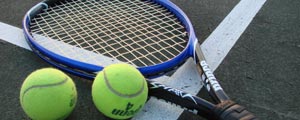 ZIMBABWE'S Davis Cup tennis team received a timely boost ahead of next month's Davis Cup Euro/Africa Zone Group III in Egypt after integrated financial services giant Old Mutual unveiled a sponsorship package worth $17 330 for the team at Harare Sports Club yesterday.
DANIEL NHAKANISO
The four-member team comprising of United States-based Takanyi Garanganga, Benjamin Lock, Mark Fynn and playing captain Martin Dzuwa will represent the country at the 12-nation tournament set for September 8-13 at the Smash Tennis Academy in Cairo.
Zimbabwe will be confident of securing promotion to the Davis Cup Euro/Africa Zone Group II this year after finishing in third at the same competition last year, narrowly missing out on promotion to hosts Egypt and Morocco.
Old Mutual group chief excecutive officer Jonas Mushosho said the organisation was committed to helping local tennis rediscover its glory days when Zimbabwe was in the prestigious Davis Cup World Group.
"Old Mutual's sponsorship is on the back of a very fruitful relationship that we have with Tennis Zimbabwe. We are not a stranger to tennis. Our contribution to the sport is very visible here at Harare Sports Club as we sponsored the reconstruction of two tennis courts that at known as the Old Mutual Tennis Courts.
"Tennis invokes nostalgic memories in the minds of many Zimbabweans. It was not long ago that Zimbabwe instilled fear into the hearts of established tennis nations. At its peak, Zimbabwe reached the World Group stage of the Davis Cup tournament and claimed the scalps of such famed nations as Switzerland, Ukraine, Great Britain, Australia and Croatia," he said.
Mushosho added that he was hopeful Old Mutual's sponsorship would go a long way in motivating the current generation of tennis players to emulate the successes of yesteryear heroes such as Genius Chidzikwe, Wayne, Byron and Cara Black.
The Old Mutual Zimbabwe boss said apart from their main business of providing financial solutions for customers' need the integrated financial services group was committed to the sustainable development of Zimbabwe.
"Old Mutual has identified sports development as a key growth area for our economy and we have programmes that are geared at promoting sports development in Zimbabwe. We believe with nurturing and support, sport has the potential to contribute significantly to the national economy," he said.
In addition to tennis, Old Mutual is involved in various sports disciplines, which include rugby, athletics and cricket.
Tennis Zimbabwe vice-president Martin Lock thanked Old Mutual for their continued support.
"We are truly thankful to Old Mutual for their investment and assistance for us to send our Davis Cup team to Egypt. May I also highlight that Old Mutual are not only involved in sponsorship of the Davis Cup team, but they an influential partner in our developmental projects that are aimed at developing tennis," he said.
Zimbabwe will be battle it out with Algeria, Benin, Congo, Botswana, Kenya, Libya, Madagascar, Mozambique, Namibia, Nigeria and Rwanda at the 11-nation tournament in Egypt.
The teams will initially be split into two round-robin pools, with play-offs determing which two teams are promoted to the 2015 Davis Cup Euro/Africa Zone Group II.