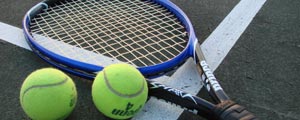 ZIMBABWEAN Tinashe Chikanda made a winning return to competitive tennis after registering a 6-4, 7-5 straight set win over South African qualifier Rayne Roselt in the first round of the Twenty Third Century Systems ITF Futures Tournament at Harare Sports Club yesterday.
DANIEL NHAKANISO SPORT REPORTER
There was also a comfortable first round win for Zimbabwe's highest ranked player in the field, Mark Fynn, who cruised to a 6-1, 6-0 win over his compatriot Miracle Matanga.
The match of the day for the locals was, however, that of Chikanda, who was playing in his first match on the ITF Men's Circuit in three years, due to a combination of academic commitments and injuries.
The 25-year-old Chikanda, who was handed a wild card entry into the $15 000 event, never allowed Roselt to settle in the match which was played in very hot conditions as he broke serve in the first game and cruised to 5-0 lead before closing out the first set 6-4.
In the second set, Chikanda yet again broke his opponent's serve early as he initially raced to a 3-0 lead before Roselt fought back by winning the next five consecutive games to bring the match back to life.
Chikanda, however, showed composure as he held serve in the ninth game with a clinical forehand winner before rallying to win three games to progress to the next round.
"It's been a while since I've played very competitive tennis. It's been almost three years and this is one of my first big matches since my return. I think what kept me there was just the tenacity to win every point and I tried to keep giving my best even when I was down and in the end I managed to pull through," said Chikanda, who recently attained a degree in software engineering in Malaysia.
In other results of matches played yesterday, Victor Girat from France rallied back to beat Germany's Buehler Sebastian 4-6, 7-5, 6-3, while his compatriot Arthur Surreaux defeated South Africa's Johannes Myburgh 6-1, 7-6 (3).
American player Michael Grant, who is being coached by the United States-based former Zimbabwe Davis Cup player Zibusiso Ncube, also progressed to the next round after a 6-3, 6-0 victory over Kazuma Kawachi from Japan.
The Twenty Third Century Systems ITF Futures continues this morning with two other Zimbabwean players Tinotenda Chanakira and Martin Dzuwa opening their campaigns today.
Davis Cup non-playing captain Dzuwa will square off against the third-seeded South African Tucker Vorster, while Chanakira also faces a tough match against the sixth-seeded Frenchman Gregoire Barrere.