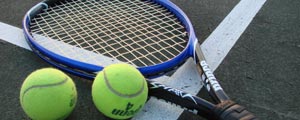 ZIMBABWEAN tennis players will be hoping for better fortunes during this week's NetOne Futures Tournament after a disappointing outing during last week's Twenty Third Century Systems Futures Tournament. SPORTS REPORTER
The NetOne Futures Tournament which has a prize money of $15 000 gets underway at Harare Sports Club this morning.
Dutchman Dutch Boy Westerhof dominated last week's Twenty Third Century Systems Futures Tournament played at the same venue, winning both the singles title and the doubles competition where he partnered his compatriot Antal van der Duim.
There was, however, no joy for the locals after all six Zimbabwean players failed to progress beyond the second round in both singles and doubles.
The trio of veteran Davis Cup captain Martin Dzuwa, Tinotenda Chanakira and Miracle Matanga were all knocked out in the first round with the latter being knocked out by his compatriot Mark Fynn.
Fynn, the highest-ranked local player in the field will yet again carry the country's hopes, but will, however, be hoping to do better after being knocked out in the second round last week.
The 29 year-old Turkey-born player lost out in straight sets to the eventual losing finalist Van der Duim while Tinashe Chikanda, the only other local player to reach the second round was knocked out by Oscar Hernandez Perez of Spain.
Meanwhile, Zimbabwe's highest-ranked female player will be hoping to finish her season on a high note when she takes part in this week's Women's Tennis Association (WTA) Finals in Singapore.
The WTA Finals which is played annually at the end of the season for the top-ranked players on the WTA tour is the fifth most prestigious event on the women's tour after the four Grand Slam tournaments.
It also has the largest prize money and ranking points after the Grand Slams.