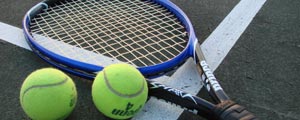 ZIMBABWEAN tennis player Mark Fynn finally gave local tennis fans something to cheer about after reaching the semi-finals of the doubles competition at the ongoing NetOne Futures Tournament at Harare Sports Club yesterday.
DANIEL NHAKANISO SPORTS REPORTER
The 29-year-old Fynn and his American playing partner Matt Seeberger beat the pair of Zambian Patrick Mufumbila and South Africa's Tucker Vorster 6-4, 6-4 in straight set to progress to the last four.
With the victory, Fynn became the first local player to reach the last four in either the singles or doubles competitions since last week's Twenty Third Century Systems Futures Tournament played at the same venue.
Fynn and Seeberger will now play the winner of the all-French second round match pitting the pair of Gregoire Barrere and Arthur Surreaux against Victor Girat and Enzo Wallart for a place in the semifinals.
Home favourite Fynn will be gunning for his second career title after winning his maiden ITF Futures doubles title in Turkey early this year.
Earlier, local fans had looked set for more disappointment after Fynn and Tinotenda Chanakira crashed out of contention in the second round of the singles competition.
Fynn, who faced a tough match against the second seeded Dutchman Antal van der Duim never threatened to cause an upset as he bowed out of contention with a 6-3, 6-2 in straight sets defeat.
It was Fynn's second defeat to Van der Duim inside two weeks after losing to the same opponent in the second round of the Twenty Third Century Systems Futures Tournament at the same venue last week.
25-year old Chanakira also suffered a similar fate against the fifth seeded South African Ruan Roelofse, losing the one sided encounter 6-1, 6-3.
Chanakira had progressed to the second round after a victory over compatriot Martin Dzuwa but the odds were heavily staked against him ahead match.
Meanwhile in other results top seed Boy Westerhof from the Netherlands came from a set down to beat South Africa's Keith-Patrick Crowley 6-7, 6-3, 6-3 in what was probably the match of the day.
Westerhof is gunning for his second title in Zimbabwe after winning last week's Twenty Third Century Systems Futures at the same venue.
In a battle of the Frenchmen, Gregoire Barrere beat his compatriot Victor Girat, 6-3, 6-3 in straight sets to reach the quarterfinals while another French player Mathieu Rodrigues beat South African Lloyd Segal 6-4, 6-2.