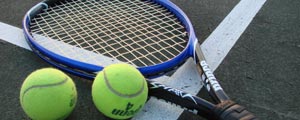 ZIMBABWE Davis Cup non-playing captain Martin Dzuwa believes his team's underdogs tag could work in their favour in their 2015 Euro-Africa Zone Group II tennis tie which gets underway at Harare Sports Club tomorrow.
BY DANIEL NHAKANISO
The hosts will head into their first match at home in nine years as second favourites against the more experienced Bosnia-Herzegovina, who have been in the Euro-Africa Zone Group II since 2010.
Dzuwa is content with the underdog tag, saying that would lessen pressure on his team going into the court against fancied Bosnia-Herzegovina.
Zimbabwe has previously managed to punch above their weight in the Davis Cup competition with the major highlight being the famous win over Australia in their first tie in the elite World Group in 1998.
"In any sport a higher ranked opponent is expected to win, but as a country we have in the past done well in Davis Cup against higher ranked teams," Dzuwa told reporters after yesterday's training session at the match venue.
"In the past we have gone on to win the tie in situations like this so it's basically 50-50 at the moment. We are playing at home, on paper they are stronger, but our team has got a preety good chance to win."
"However, it won't be easy, we have to be at our best because they are not going to give us easy matches, they're going to give it their all because they want to progress to the next round because last year they managed to progress to the third round.
The five member team of Wayne Black, Tinotenda Chanakira, Benjamin Lock, Mark Fynn and Takanyi Garanganga continued their preparations yesterday ahead of the crucial tie with Dzuwa expressing confidence in his charges.
Dzuwa was expected to submit his four players later yesterday ahead of today's draw which would determine the match ups in the two singles matches tomorrow — doubles on Saturday and then the reverse singles on Sunday.
The quartet of Garanganga, Black, Lock and Fynn are expected to make up the four-member team with Chanakira completing the lineup as a reserve player.
"We are all in camp now and everyone is looking sharp and ready to go and there have been no injuries.
"As for who is going to play we are yet to decide, but it will probably be after later today, that's when we will know who is going to play and who will be the fifth guy.
"I'm allowed to change a player two hours before the start so anybody from the five can still play," he said.
The winners of the tie will face a second round match the winners of the other tie between Hungary and Moldova from the 17-19 July while the losers play a relegation playoff against the losers of that match.