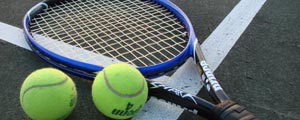 Zimbabwe tennis ace Mark Fynn did the nation proud after picking up a bronze medal for Team Zimbabwe in the singles contest despite losing 6-2 6-2 to Benin's Alexis Klegou in the semi-finals at the ongoing 11th African Games in Congo Brazzaville on Tuesday.
BY MUNYARADZI MADZOKERE
The Davis Cup team doubles specialist won his second African Games bronze following success in the doubles partnering with the country's number one player Takanyi Garanganga in Maputo, Mozambique, four years ago.
"I always feel so proud just to be able to represent Zimbabwe. So when I manage to win a medal for my country, it is incredibly special," Fynn told NewsDay Sport.
"I lost a in a very tough match today, but I have a medal. I lost in the semi-finalis and I received a bronze medal. However, I still have another team event, partnering Martin Dzuwa, on Thursday (tomorrow) and Friday and we are hoping to do well and get another medal," he said.
After Garanganga failed to travel to the African Games due to injury, Zimbabwe coach Dzuwa paired with Fynn in the doubles competition on Saturday and lost 6-4 6-2 to a Congolese doubles team in the first round.
The team event set for the end of the week will be made up of the top four countries with each of these countries using two players.
The semi-finals will be played tomorrow, while the finals as well as the third/fourth place play-offs are set for Friday, presenting another prefect medal opportunity in tennis for Zimbabwe.