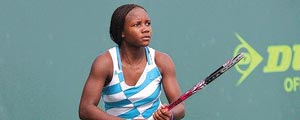 Having already raked in three bronze medals at the African Games currently underway in Congo-Brazzaville, the Zimbabwe tennis team will be gunning for more medals when they compete in the elite team events on Thursday and Friday.
By Sports Reporter
Coach Martin Dzuwa expressed satisfaction with the team's performance so far, in an interview with NewsdaySport Wednesday.
"I am happy, we are a small team and we have three medals so far and we have managed to make team events in both categories, which means we still have work to do," player coach Dzuwa said.
"In the men's team event, it is going to be tough and in the ladies' category we are hoping for a positive result, which is more medals. I was not expecting to play, but due to circumstances I am happy to help out the team and my country whenever I can," he added.
The top four performing nations in tennis go into a hat and play semi-finals today before finals and third and fourth place play-off tomorrow.
Davis Cup ace Mark Fynn and top female athlete Valeria Bhunu reached the semi-finals in their respective singles draws, earning bronze medals for the country.
Bhunu then teamed up with Pauline Chawafambira to win another bronze in the women's doubles contest to cap a remarkable turnover of medals for a six-member group.