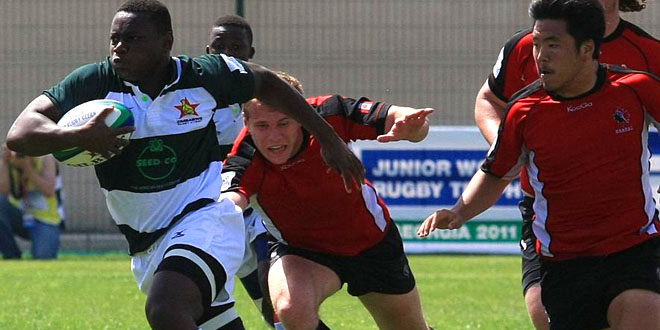 THE Zimbabwe Under-20 rugby team selectors have cast their selection net wide after including several foreign-based players in their extended training squad of 54 players ahead of next year's Junior World Rugby Trophy to be held in the capital from April 19 to May 1.
BY DANIEL NHAKANISO
Zimbabwe were in July confirmed as the hosts of the global youth rugby tournament, which will see eight teams battling it out for a spot at the World Rugby Under-20 Championship 2017 on offer for the winner.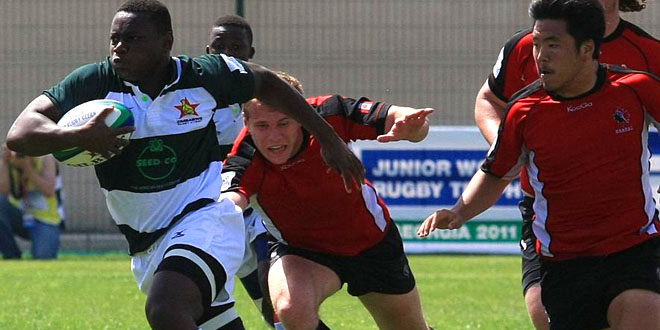 The Young Sables technical team are pulling all stops to have the side ready and yesterday made their intentions clear by including a host of former schoolboys now plying their trade at universities in South Africa, Australia and the United Kingdom.
Among the UK-based contingent vying for a final place in the Young Sables squad are Nottingham Academy centre Andy Musvaburi and scrumhalf Ngoni Zinyama.
Australia-based versatile back Tapiwa Mangwana and loose forward Lebogang Ngwenya, who is on a scholarship at Wheeling Jesuit University in West Virginia in the United States, also make up the foreign-based contingent in the side.
Former Zimbabwe Under-18 captain Stephen Bhasera, who is part of the Golden Lions Under-19 set-up, headlines the South Africa-based contingent, which includes Sharks Under-19 prop Justin Mendlehson and Free State-based flank Daniel Nyamugama, among others.
Zimbabwe Under-20 team manager Shaun de Souza said a 90-day training schedule had already been laid out and would get into motion this weekend when the players meet for the first time.
"We (will) assess where they stand in terms of fitness and conditioning," De Souza said.
"The reason we have cast our net wide is to ensure that we come up with the best possible squad. We are aware that some of the players might not be released by their universities or clubs, that's why we have announced the extended training squad early so that we have enough time to know who will be available and those who may not be for the tournament," he said.
Hosts Zimbabwe qualify automatically for the tournament and will be joined by South America's Uruguay, African qualifier Namibia and Samoa, who were relegated from this year's U20 Championship.
The remaining four teams will be regional qualifiers from Europe, North America, Oceania and Asia.
Young Sables Squad Forwards: J Mendelsohn (Sharks Academy), B Muntanga (Falcon), S Bhasera (University of Johannesburg), T Chikwezvero (Maritzburg), A Musasanura (CBC), J Makoni (Prince Edward), L Kenny (St George's), P Sora (Prince Edward), S Magwenzi (Churchill), T Ndaba (Prince Edward), G Mangenje (Prince Edward), T Bwerinofa (Kyle), T Zhoya (University of Johannesburg), C Butler (Falcon), R Mubayiwa (SA), C Pritchard (Falcon), A Burnett (St John's), D Nyamugama (Free State), L Ngwenya (US), T Muchena (St George's), M Shioma (Limpopo), C Bond (Old Johanians), T Gonese (SA), R Jiri (Dale College, SA), K Ndoro (Prince Edward), K Chisango (St George's), T Mangwana (Aus) Backs: J Gando (Lomagundi), N Zinyama (UK), C Nyakudya (Falcon), E Mudzengerere (Prince Edward), R Elliot (Durban), T Gamanya (Kyle College), T Moses (Prince Edward), A Bruce (St George's), T Vheriwa (Peterhouse), D McRoberts (UK), K Munangi (Maritzburg), T Ngosi (Durban), T Mapfumo (St George's), B Matoramusha (Prince Edward), F Murinye (Kyle), R Chionyere (Churchill), S Phiri (Falcon), T Maupah (Goldridge), M Ushewokunze (Harare Sports Club), S Katsvere (Prince Edward), G Mavara (Dale College, SA), M Musvaiburi (UK), T Gochera (SA), M Manhombo (SA), R Dinha (Prince Edward), K Kazembe (SA), M Musvaburi (Nottingham Academy)