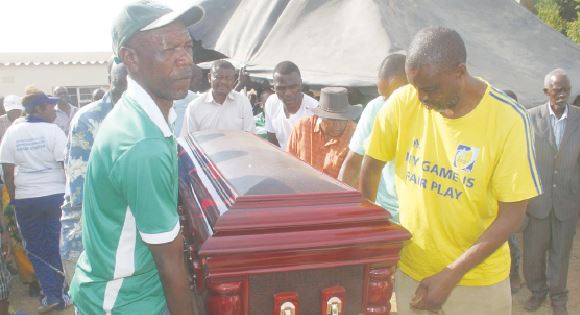 THOUSANDS of people mainly connected to football thronged the homestead of the late Zimbabwe football icon Freddy Mkwesha in Goromonzi yesterday to pay their last respects.
BY TAWANDA TAFIRENYIKA
The former Dynamos forward, who died at a Harare hospital on Tuesday after losing a long battle with diabetes, was laid to rest at his rural home yesterday.
He united football people from different clubs among them former Blackpool directors Ronnie Chihota and Joe "Pajero" Musenda, ex-Dynamos and Caps United players Eddie Muchongwe, the Chidzambwa brothers – Sunday and Misheck – Moses Chunga, Warriors coach Kalisto Pasuwa, Gift Muzadzi, Norman Mapeza and Brenna Msiska, among others.
Current players, officials from Zifa, Premier Soccer League chair Twine Phiri, former Motor Action chief of protocol Simeon Jamanda and supporters, friends and relatives all attended the burial.
Speaker after speaker gave a moving eulogy.
Muchongwe, rated one of the best defenders during his playing days, said Mkwesha was the one who lured him to play for Caps United from Dynamos.
He said he rose to become Mkwesha's assistant at Caps United and learnt a lot from him.
"Football has been left poorer without him (Mkwesha). He was well known for his humility and was an inspiration to many footballers. He was the one who lured me to Caps United from Dynamos. I ended up being his assistant coach at Caps United. Zimbabwe has been robbed of one of the best football brains," Muchongwe said.
Dynamos goalkeepers' coach Muzadzi said he knew Mkwesha since he was a 17-year-old teenager.
He said he gained a lot from the man who became the first Zimbabwean to play his club football in Europe after turning out for Portuguese Primera Liga side Sporting de Braga in the late 1960s, where he rubbed shoulders with the late Portuguese legend, Eusebio.
"I knew him from the days when I was still in the Under-17s. He was a great motivator, a soft spoken but brutally frank man. He was that kind of coach who would tell you even after you have played and won that guys you won but your performance wasn't up to scratch. He was very frank but a good motivator. He was also a humble man," he said.
George Shaya, widely regarded as the greatest Zimbabwean player of all time, said he regularly met with Mkwesha at Raylton Sports Club to discuss football issues over a beer.
"We used to meet regularly at Raylton Sports Club and discuss football issues with him (Mkwesha). We would talk about the current standard and type of football and compare with the game that we used to play during our time. We would also talk about how former players could improve the game in the country. Football will never be the same without him," he said.
Mkwesha was a Dynamos founding member in 1963 and was instrumental in the club's formative years. He was an adviser to the club's board of directors at the time of his death. Mkwesha also served at Caps United, where he also recorded successes in cup competitions as a coach.