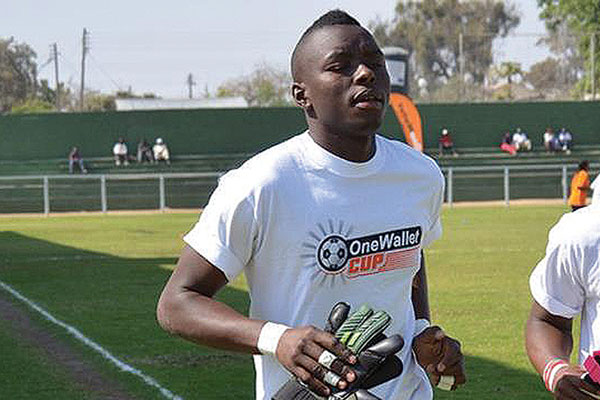 FORMER Castle Lager Premier Soccer League club Dynamos goalkeeper Artwell Mukandihas come out of retirement and set his sights on playing for a local premiership team next season.
BY HENRY MHARA
Mukandi called time on his football career in August last year to pursue "other opportunities".
He was playing for Mozambican topflight side Liga Desportiva Muculmana at the time.
"When I decided to stop playing, it was a decision that I had to take after some careful consideration. It was not an easy thing to do, but the reasons were personal and that is the reason I could not say anything in public," the two-time league title winner said.
"I had to sort the things out away from the field of play, so I had to take that sabbatical, and thank God it all worked out well. Now I'm back."
At the age of 29, Mukandi feels he still has a lot to offer.
"Now that those problems are out of the way, there is no reason why I should not be playing football again. I have just turned 29, and feel that I still have a lot to offer. (Italian goalkeeper Gianluigi) Buffon is still playing at the age of 40," he said.
Mukandi is drawing inspiration from fellow goalkeeper Edmore Sibanda, who went away for at least three seasons, but returned to play for giants Caps United, where he led them to the Caf Champions League group stages last season.
Sibanda joined a South African club this year, and has been recalled to the Warriors squad, where he is the second-choice goalkeeper to George Chigova.
The big goalkeeper has played twice in Zimbabwe's current Africa Cup of Nations campaign.
"Eddie is now playing for the Warriors, but remember, he was out for three years. He came back and is doing well for himself," Mukandi said.
"He took Caps to the Champions League and now he is playing in South Africa and the Warriors. I can still rise to the top. We also have people like Tapuwa Kapini, Energy Murambadoro, Ariel Sibanda and Munya Diya, who are older than me, but they are still playing."
Mukandi started his professional career at Kiglon before moving to Monomotapa, where he was part of the exciting squad that also had Ronald Chitiyo and Russel Madamombe. He then moved to Dynamos, where he won two league titles before moving to Mozambique in 2015.
At least four teams are reportedly queuing for the shot stopper's signature, including a possible return to Dynamos, promoted Manica Diamonds and Ngezi Platinum Stars. "Four clubs have shown genuine interest, so I'm still weighing the options as of now," Mukandi said.