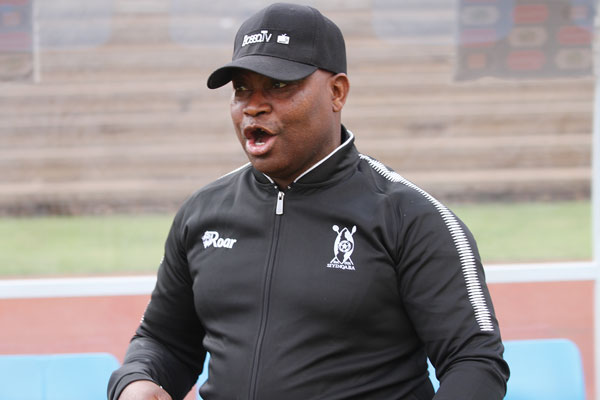 BY FORTUNE MBELE
AFTER weeks of speculation about his future at the club, Highlanders technical manager Madinda Ndlovu finally quit the Bulawayo side yesterday, leaving Bosso to scurry for a replacement with the Castle Lager Premier Soccer League programme set to resume on July 5 following a two-week break.
Ndlovu's exit was the worst kept secret, but even when the announcement arrived yesterday, it still shook the institution and its stakeholders.
Highlanders chairman Kenneth Mhlophe announced Ndlovu's resignation, saying the new technical structure will be announced soon.
"The club wishes to inform its members, fans, stakeholders, partners and sponsors that our technical manager, Madinda Ndlovu, has stepped down from his position at the club. Ndlovu's final working day is June 30, 2019. Our club thanks him for the sterling work he has done in assembling a predominantly young and competitive squad. We are pleased that he leaves behind a rejuvenated institutional philosophy that has been inculcated in the playing and coaching staff and that his departure is amicable with all the hallmarks of a mature and caring son of the club. In the interim, we appeal for calm within the stakeholder fraternity of our club as we re-organise the coaching roles which will be announced promptly," Mhlophe said.
Mandla Mpofu and Bekithemba Ndlovu have been Madinda's assistants.
After reports of his departure started to filter in, Ndlovu maintained that he would see out his contract at Bosso, despite confirmation by the Botswana club that they had captured the former Warriors mentor.
Ndlovu had said after Highlanders, he was retiring from football, but sources said he got an irresistible offer from Gaborone United although Highlanders still owe him money from his previous stint at the club.
Ndlovu quit the club halfway through his three-year contract to return to Botswana where he has clinched three league titles with Mochudi Centre Chiefs and Township Rollers. He quit Township Rollers in 2015, saying he feared for his life after he was targeted by the club supporters following his 2-1 loss in the final of the Mascom Top 8 Cup to Gaborone United, then coached by Warriors' assistant coach Rahman Gumbo.
After Township Rollers, Ndlovu joined Orapa United before leaving to return to his boyhood club, Highlanders, at the beginning of last year, replacing Dutchman Erol Akbay.
Former Highlanders mentor Bongani Mafu took over at Orapa United after Ndlovu's departure, but also parted ways with the club in October last year.