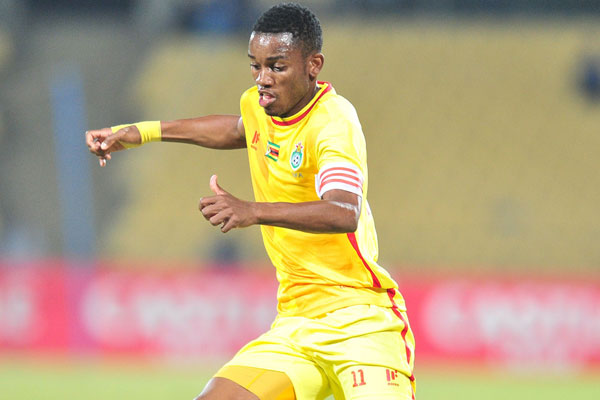 BY HENRY MHARA
FORMER Warriors vice-captain Ovidy Karuru is ready to fight and try to save Zimbabwe's 2022 World Cup campaign which is tottering on the brink of failure following a surprise defeat to Somalia in their first leg of the preliminary round tie that concludes with the second leg this afternoon.
Zimbabwe suffered a humiliating 1-0 defeat to Somalia on Thursday last week and are pressed to turn tables around.
The Warriors will be looking to win by a two goal margin and progress to the group stages of the qualifiers.
In addition to Karuru, coach Joey Antipas has also called in Khama Billiat to reinforce the squad, and the two are expected to play a crucial role in saving the country's campaign.
"The defeat was a wake-up call to the whole team, it made us realise that nowadays there is no small team when it comes to football. So going into the match, we have to be at our best and win it for the nation because losing to Somalia was an embarrassment. We need to focus 100% and just win the match," Karuru said.
The midfielder is demanding a flying start to the game by scoring an early goal that will put pressure on the visitors.
"We have the material that can win us the game. The guys played well, but couldn't score, so I'm here to add experience and some quality in attack to win the game. It's not going to be an easy game because they already have three points, so they have something to protect. We expect them to come and park the bus. So we will need to be technically good in the final third, try to score an early goal and unsettle them. We need to attack from the first whistle, and my job will be to try to create opportunities and unlock their defence for our strikers to score goals. I'm ready to help the team achieve the goal.
"I will expect the defence to shut the door because I'm confident we will score goals. What we don't want is for them to score and then we will have pressure to score more goals. We will need to score at least three or four to be sure. Two might not be enough because they can surprise us with a goal in the last minute and we will be out. We need a minimum of three goals, and I'm sure it's possible. We can turn around this fixture," Karuru said.