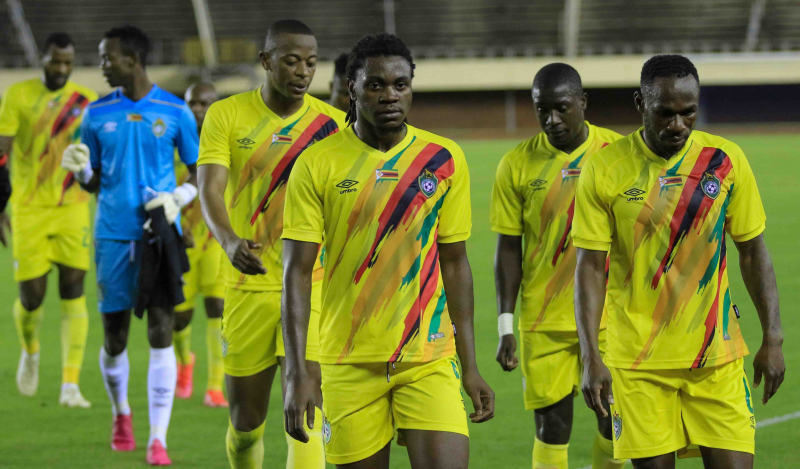 THE Warriors will play their 2026 World Cup home qualifiers outside the country after Confederation of African Football (Caf) excluded the National Sports Stadium (NSS) from the list of pre-approved stadiums for the qualifiers which begin this November.
This is despite recent assurances by then Youth, Sport, Arts and Recreation minister Kirsty Coventry that renovations at the stadium will be fast-tracked to "ensure that we play our World Cup games at home".
Zimbabwe are in Group C of the 2026 Fifa World Cup African qualifiers together with Nigeria, South Africa, Benin, Rwanda and Lesotho.
The Warriors begin their campaign away in Rwanda on November 13. A week later, they host Nigeria in a home match which will be played outside Zimbabwe.
The qualifiers will resume in June next year when Zimbabwe host Lesotho before travelling to South Africa on June 3 and 6, respectively.
Match Days five and six have been scheduled for March 2025 as the Warriors host Benin before travelling to Nigeria.
In September of the same year, the Warriors travel to Benin before hosting Rwanda. The reverse fixture against South Africa is on October 6, with the Warriors concluding their campaign away in Lesotho seven days later.
No comment could be obtained from the Zifa normalisation committee as to where they will host Nigeria, but sources yesterday confided in NewsDay Sport that Botswana and South Africa are the two options under consideration.
Botswana has one facility, the Obedi Itani Chilume Stadium in Francistown, which meets the Caf requirements, while South Africa has seven stadiums which have been approved to host international matches.
According to a Caf circular, all its member associations have until Friday to submit the venues for match days (MD) 1 and 2.
That means the Zifa normalisation committee, which is temporarily running the affairs of the national association, has four days to secure a venue where they will host Nigeria.
"In preparation for MD1&2 (2026 World Cup Qualifiers) which are scheduled to be played from November 13 to 21 2023, we are requesting the member associations to send us their preference date, venue and kick-off time of their home match by the September 8 at the latest," Caf wrote.
"We encourage the associations to start initial conversations in order to better coordinate the date and venue selection process."
Zimbabwe is among 24 countries of the 54 Caf membership, including group mates Benin and Lesotho, who have no approved stadiums to host international matches.
Zimbabwe was left without a Caf-approved stadium after the deteriorating NSS — suffering from years of overuse and general neglect by the government — was flagged by both Caf and Fifa in 2019.
The other local stadiums, such as Rufaro and Barbourfields, which have hosted the Warriors before, have also been condemned.
The Caf and Fifa inspectors picked a number of areas they said need to be improved at NSS before it can be deemed fit to host international matches.
They include installation of bucket seats made of unbreakable and non-inflammable material, modern electronic turnstiles and automated systems, and the setting up of a functional Venue Operations Centre with a good overview of the stadium equipped with CCTV monitors for security purposes.
Caf also recommended the refurbishment of changing rooms and the upgrading of B Arena in line with Caf training field infrastructure requirements.
But three years on, very little has been done by the government to renovate the National Sports stadium to meet the Caf and Fifa demands despite assurances by Coventry earlier this year that the facility will be ready by the time the World Cup qualifiers start.
"There has been ongoing works (at the National Sports Stadium). The electronic ticketing system is now in the country waiting to be installed," said Coventry on July 11 this year during the unveiling of the Zifa normalisation committee.
"We will continue to have the conversations with Fifa, the guarantees of what is happening, which has not been made public, will go to Fifa through the SRC and we remain fully committed to seeing and ensuring that we are playing our World Cup games at home."
Two months on, nothing has been installed at the NSS, and now the country faces an embarrassing reality of playing their home matches in neighbouring countries.
The stadium is currently closed for use by local clubs due to water reticulation system problems.
Toilets and ablution facilities are a mess due to the unavailability of water.
The 2026 Fifa World Cup will be held in the United States of America, Canada and Mexico. A total of nine slots in the final tournament and one inter-confederation play-off slot are reserved for Caf teams.
All 54 Caf members were drawn into nine groups of six teams and will play home and away round robin matches from November 2023 to October 2025.
The winners of each group will qualify directly to the 2026 Fifa World Cup, and the four best group runners-up will advance to a play-off to determine which team will advance to the inter-confederation play-offs.
Follow Henry on Twitter @henrymhara
Related Topics