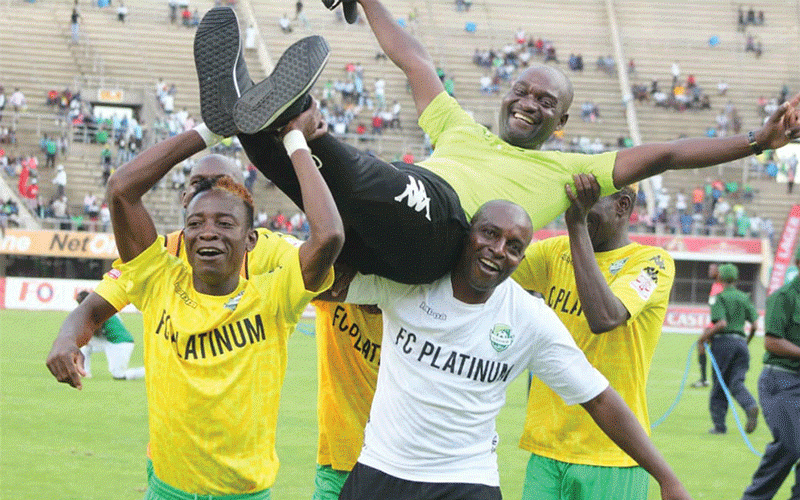 BULAWAYO Chiefs' coach Lizwe Sweswe is relishing his return to Mandava for today's Castle Challenge Cup against his former club FC Platinum.
Today's game against FC Platinum will be his first in charge of topflight side after leaving the Zvishavane giants in 2020 after a fall-out with then coach Pieter de Jongh.
Sweswe had lifted the Premier Soccer League title with FC Platinum in 2019 after taking the coaching reins from his boss Norman Mapeza had left to join Chippa United in South Africa midway through the season.
Mapeza has since returned to FC Platinum and enjoyed success last season by clinching the Premier Soccer League title while is now beginning a new adventure at Chiefs.
The former FC Platinum coach joined Chiefs during the offseason break after replacing Portuguese national Nilton Terroso who left before the end of the season last year while his assistant then, Thulani Sibanda has joined Triangle as head coach.
Sweswe said he is relishing the opportunity to test his side against his former employers and expects warm welcome from the Zvishavane club's fans.
"It is a very interesting journey for me that I was last in the PSL with FC Platinum and I am back in the top league and in my first game I meet them," Sweswe said in an interview with NewsDaySport ahead of today's match.
"I had a good working relationship with everyone at FC Platinum, the players, the fans, the executive committee, actually all stakeholders. It's only that circumstances make one move. We are now on different levels and stations. I know there are a lot of expectations but what I know is I am going to have a superb reception at Mandava," he said.
Sweswe reckons the Castle Challenge Cup final against FC Platinum at Mandava Stadium today is an opportunity to measure his team's preparedness ahead of the start of the 2023 Castle Lager Premier Soccer League next weekend.
The Ninjas lost a bulk of their players who were instrumental in their successful Chibuku Super Cup campaign which earned them the ticket to meet league champions FC Platinum in the Castle Challenge Cup.
Seasoned forward Perfect Chikwende leads the list of players who left the club after returning to FC Platinum while the trio of Kevin and Elvis Moyo and Arthur Musiyiwa joined Dynamos.
Bulawayo Chiefs are also now without goalkeeper David Bizabani and Lucky Ndlela who went to Green Fuel and experienced midfielder Kelvin Madzongwe, who is now at Caps United.
The seasoned coach admitted it has not been easy building a new squad and playing a big club like FC Platinum in a season opener, is a good test for Bulawayo Chiefs.
"In the short space of time that I have been at Chiefs my mandate has been to build a team that will compete in the Premier Soccer League. This game against FC Platinum in a cup final comes at a good time and it will be a measure of where we are and where we are going as a team as we go into the Premier Soccer League season," revealed Sweswe.
"Football is a pressure game; pressure to win, pressure to play well but at the end of the day, the better team wins."
Related Topics