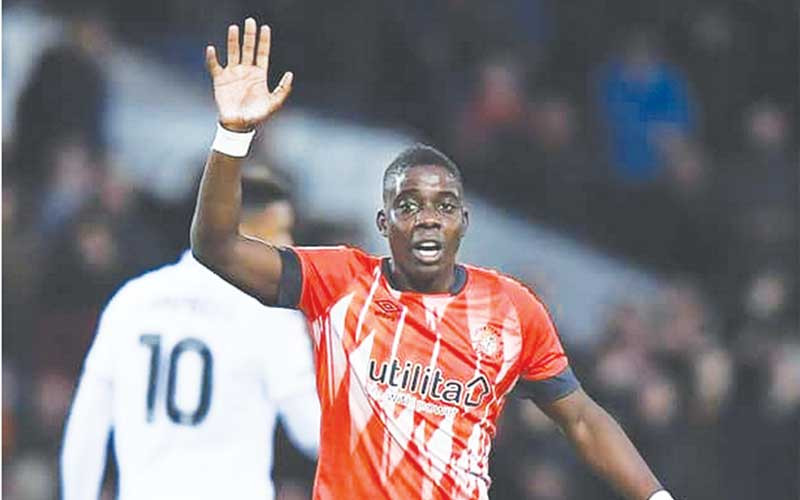 Town supporters were impressed by what they felt was a "classy" and "powerful" first outing in a Luton shirt from on-loan Aston Villa midfielder Marvelous Nakamba at the weekend.
The 29-year-old, who cost Villa £11m when signing from Club Brugge in August 2019, moved to Kenilworth Road on deadline day recently and was named in the squad for the visit of Stoke City.
He was introduced for Allan Campbell midway through the second half in what his first appearance since May 2022, as the Zimbabwe international showed a willingness to get stuck in, with the Kenilworth Road already giving him his own song to the tune of 'Tequila' by The Champs.
Reacting to his efforts on social media, @nptomlin: "I thought he was excellent. One touch passing, strong and powerful."
"I don't believe he has played much lately, so it's even more impressive. You know he has a bit of class about him."
@sonic_sinclair: "Well the lad got stuck in he will get better."
@LTFCsmithy: "Calm, composed, did things quietly & competently. Anticipation was good and seemed to be in the right place at the right time, and left footed which will help bring some balance."
@outofbounds58: "Classy. Once he gets match fit he should play a lot of games. The question is does he rotate with Lawnsbury with PRM, Clicker and filling the other 2 MF positions?"
@ChrisSansby: "Helped us get back into the game and regain control. Fast, strong and broke up play well. Very impressed."
@Danlangford6: "This is what Marv will do. He will never set the world alight but his work and the things he does in games sometimes go unnoticed. He is great at breaking up play. Hope you come up this season, but Boro & WBA looking strong. Could be a tight play offs!"
@SteveLTFC17: "Simply Marvelous."
@LouTunwin: "Stoke had their best spell and were looking threatening in the 20 odd minutes before he came on. We then turned that around without anything obviously flashy from him."
@Markledsom: "Already the second best Marv to ever play for Luton? #COYH."
@ParsGaz: "Great lad and a good player, hope he does the business for you guys and helps to get you promoted."
Meanwhile, on the Luton News' Facebook page, Tony Coburn said: "I think he was simply Marvelous..."
Ron Goddard: "Thought he was competent and fitted in well."
Martin Vick: "He seems to be a good fit for the way The Hatters play."
Jerry Kaliwa: "He can stabilize the Link for sure hope he will help to keep the wining momentum clean with his defensive play."
Allison Fox: "Too early to tell, but seemed willing to fit in with the squad. Hope he liked his song."
Mark Haydon: "Far too early to tell.
He didn't particularly stand out, but as he settles in, I'm sure he will show us what the hype is about."
Ed Potts: "Early days is what I felt."
Related Topics