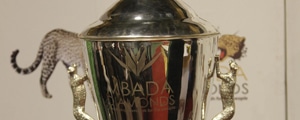 FC PLATINUM will miss three key players while Monomotapa will be without their influential skipper Tawanda Nyamandwe for their Mbada Diamonds Cup semi-final football clash at Sakubva Stadium tomorrow.
REPORT BY HENRY MHARA SPORTS REPORTER
Platinum, winners of the Bob 88 Super Cup, will be without Benjamin Marere, Allen Gahadzikwa and Daniel Vheremu for the tie.
Monoz coach Biggie Zuze and Platinum president Nathan Shoko said both teams remained upbeat about their chances tomorrow.
Nyamandwe, who returned to action two weeks ago after a one-month-long injury layoff, is back on the sidelines.
"He aggravated the injury against Dynamos last Sunday. That is the reason I pulled him out later in the game. He could barely walk after the match. He didn't train the whole week, so he is not travelling to Mutare," Zuze said.
Nyamandwe scored his team's goal in the 2-1 Premier Soccer League loss to Dynamos and was a constant threat to the log leaders' defenders with his ability to hold the ball high up and create space for teammates.
"It's a huge setback for us because he is the captain and the leader of the team. He has been very good in the few games he has played since coming back from injury," added Zuze.
Platinum, on the other hand, will also head to Mutare without the injured trio of Marere, Vheremu and Gahadzikwa. Marere is down with a knee injury and has been ruled out for the season.
While admitting that Monoz were just too good for them in the league, Platinum president Shoko is fancying his team's chances this time around.
"I think the chances of us triumphing over Monoz are very high. The fact that we are in the semi-finals gives us a considerable chance, like them, to get to the finals. In the semi-finals there is no formula to say which team is going to win. There is no formula, otherwise why compete?"
Despite the loss of Nyamandwe, Zuze still believe his squad is good enough to complete a treble over Platinum this season after winning both league matches.
"Chinomakwa Nani", as Monoz have come to be known because of their slick passing football, completed back-to-back wins over the Zvishavane-based side in the league this season.
Zuze reckoned that trend would continue.
"We lost to Gunners and Dynamos, but that was just a small blip. We have spoken about it as a team and we have managed to regroup. It's going to be a difficult match because this is a cup match where results are very unpredictable, but I think we are ready for FC Platinum," said Zuze.
In the absence of Nyamandwe, Zuze will look up to the star trio of Ronald Chitiyo, Russel Madamombe and vice-captain Kuda Musharu.
Chitiyo in particular has been at the top of his game in recent weeks, winning two consecutive Mbada Diamonds man-of-the-match awards in the two previous rounds.