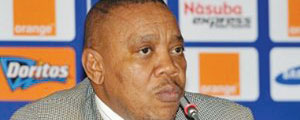 PRETORIA — Referees in the 2013 Africa Cup of Nations (Afcon) will be kept secluded from the public during the tournament in South Africa next year to avoid match-fixing, a local organising committee (LOC) said on Tuesday.
Report by AFPA
Organisers will apply the same security measures as used during the 2010 World Cup, which the country hosted as well, LOC chief executive officer Mvuso Mbebe told a parliamentary committee.
"We are using the same concept we did during the World Cup where the referees will be quarantined . . . in a particular hotel which no one has access to," he said.
"When they leave, they leave match day minus one, to go to the city . . . they cannot have contact with members of the public because you don't know what can be exchanged in that plane," Mbebe added. Security force members will escort the referees from their hotels to  stadiums.
The quarantine will be lifted at the end of the tournament, he said, adding that the Confederation of African Football had approved the measures.
The continental showcase takes place from January 19 to February 10 2013.
Following budget cuts, the LOC board members have also waived their salaries.
"In the view of the cut, even the allowance of board members won't be provided for . . . it's nil, zilch, because there's no money," said LOC chairman Mwelo Nonkonyana.
Related Topics