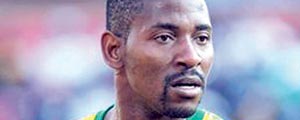 THE Zifa Special Appeals Committee is still to make a determination on the appeal cases involving former Warriors captain Method Mwanjali and defender Thomas Sweswe.
REPORT BY SPORTS CORRESPONDENT
Zifa lawyer Ralph Maganga yesterday said the Special Appeals Committee led by advocate Silas Chekera was still deliberating on the two cases heard on Monday and Tuesday.
"There is no ruling on the two cases yet. The Special Appeals Committee is still deliberating and the judgment on the two will be communicated through the Zifa office. We don't know when they will be through," said Maganga.
The Zifa Special Appeals Committee, also comprises Advocate Thabani Mpofu and football administrator Chris Mbanga, first sat on Monday to hear the appeal case of Bidvest Wits University defender Thomas Sweswe.
Lawyers representing the former Zimbabwe international defender challenged the legality of the Justice Ebrahim Committee to pronounce judgment on individuals implicated in the Asiagate match-fixing scandal.
Sweswe's legal team argued that Zifa erred in appointing the committee led by Justice Ahmed Ebrahim to try and deal with the case instead of letting their standing disciplinary committee handle the matter.
The lawyers also said the life ban imposed on the Zimbabwe soccer star was too harsh and that a fine of between $2 000 and $5 000 would have been appropriate.
Mwanjali's lawyers also challenged the status of the Justice Ebrahim ad-hoc committee as a disciplinary committee, arguing that the manner in which it conducted the proceedings was far divorced from that of a disciplinary committee, although this was quickly dismissed.
They dismissed the committee as just a commission of inquiry which was only investigating and that there was never a cross examination of the appellant. They also said the appellant should have been called before a proper disciplinary committee to put to test the evidence Zifa relied on.
They also questioned the authority of Zifa to extend the 10 year-ban recommended by the justice Ebrahim Committee to a life ban and in the absence of a disciplinary committee.
Maganga also concurred that the soccer mother body should have called the appellant to a disciplinary committee before extending the sanction to a life ban.
He said the Mwanjali case was the only one where Zifa decided to extend the sanction instead of reducing it.
Former Warriors coach and Black Leopards coach Sunday Chidzambwa was also challenging his ban from football, but his appeal case could not be heard as he had not paid the full instalment of $6 000 in appeal fees.